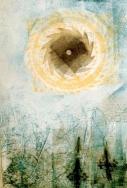 "My life is an art. I have given it a form that I may understand what is happening in the world."
- Sari Dienes                                                                                             
Exhibition: April 16 - May 22, 2011
Opening Reception: Saturday, April 16th- 5 to 8 PM
Garnerville, N.Y.
- The work of one of the great abstract artists, Sari Dienes, who has been described as "a touch of yeast in the cauldron of the avant-garde movement in America", will be on display at GAGA Arts Center from April 16 - May 15, 2011.  Dienes's massive body of work - not seen regionally in 25 years - includes assemblage, ceramics, painting, sculpture and printmaking, and stylistically ranges from figure drawing to Abstract Expressionism. Born in 1898 in Debreczen, Hungary, Dienes studied with Fernand Leger and Henry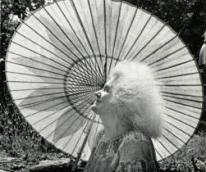 Moore, and exhibited alongside some of the great American masters such as Mark Rothko, Robert Motherwell, Ad Reinhardt and Stuart Davis.  Dienes's ability to stretch the imagination to encompass every bit of the world around her did not go unnoticed. LIFE magazine during its heyday in the 1950s documented her discoveries in picture and story, turning her into a national celebrity. "In 1980, People magazine devoted a two-page article to Dienes over a headline that read: 'Like Any Other Masterpiece, Sari Dienes Seems to Improve With Age-She's 81 Going on 60.'"  The State of New York commissioned two large silk-screens depicting the state's tree (Sugar Maple), flower (Rose), bird (Bluebird), animal (Beaver) and gemstone (Garnet) to hang in a hearing room of the Legislative Building in Albany. Dienes was the recipient of a gold medal in art from the Academy of Parma (Italy), and in 1976, was presented with the International Women's Year Award for her contributions to the world of art. Dienes's work has appeared in the most prestigious museums and galleries, including the Whitney and Museum of Modern Art. Her work reflects an indomitable spirit, deeply engaged with the world around her. "As Sari Dienes mov[ed] into her ninth decade, her creative energies remain[ed] undiminished. She delight[ed] in welcoming young artists to her Stony Point studio to share with them her own vitality and vision of art. Sari claim[ed] that the source of her inventiveness [came] in part from the special communion with nature and the environment, both of which she [fed] into her work. 'All the forces of nature are alive,' Sari Dienes [said] as she assembl[ed] and paint[ed] glass bottles, clay fragments, old bones, broken mirrors, dried beans and other 'found' objects into works of art, charging them all with renewed mystery and beauty." Portions of foregoing excerpted from an article by Michael Hitzig and from
http://www.saridienes.org/
.
###
Gallery Hours
: Saturdays and Sundays from 1:00- 5:00PM
Opening Reception
: Saturday, April 16th- 5 to 8 PM
Location and Contact Information
: GAGA is located at the Garnerville Arts & Industrial Center, 55 Railroad Avenue, Garnerville, NY 10923 in the Village of West Haverstraw, Rockland County. For directions and additional information, visit:
http://www.gagaartscenter.org/
; call 845-947-7108, or email
gaga@garnervillearts.com
.