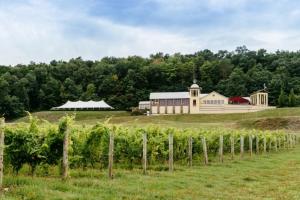 Finger Lakes Regional Tourism Council releases list of venues across region
Pittsford, N.Y. - According to WeddingWire, 40% of couples get engaged between Thanksgiving and Valentine's Day. That means this period kicks of wedding planning season, with brides and grooms beginning their search for the perfect place for their nuptials. The Finger Lakes Vacation Region is home to a wide variety of wedding venues from beautiful barns to wineries with spectacular views.
To assist engaged couples find their truly distinctive nuptial locale, the Finger Lakes Regional Tourism Council, the official 14-county tourism promotion agency as designated by I Love NY, has compiled a comprehensive list of venues on the Finger Lakes regional website - FingerLakesTravelNY.com/etc/weddings/. A sampling of the creative venues are listed here.
Oak Knolls Manor in Caledonia, N.Y. provides a full-service event experience. Their popular event space is an 1890's Federal Colonial Farmhouse with Wells Barn featuring a 35-foot-high arched cathedral ceiling. The barn holds a 1,400-square-foot raised stage area overlooking the main floor, which seats 225 guests. The event space is going through its final stages of construction, adding new bathrooms and decks, with plans to reopen in spring. To complete the package, Oak Knolls also offers an on-site flower shop and professional floral services for one-of-a-kind bouquets.
You shouldn't have to worry about your impact on the environment on your wedding day. At  Heron Hill Winery, you don't have to! The Hammondsport-based winery is 100% green and was named one of eight eco-friendly East Coast wineries by Mother Nature Network in 2011. In addition to participating in VineBalance, a sustainable state viticulture program, they are an approved Green Bride Guide vendor for eco-conscious couples. Heron Hill's event tent overlooks their vineyards and Keuka Lake, offering a beautiful backdrop for up to 170 guests.
For a wedding day as sweet as syrup, couples can now tie the knot at Shadow Hill Maple Syrup in Ontario, N.Y. For years, Shadow Hill has been known for its 100% pure, all-natural maple syrup made from maple trees along the shores of Lake Ontario. With the recent completion of their special event area, they are now booking weddings and other special events on-site. Couples planning an alternative wedding can throw a beautiful brunch celebration with the home-made "liquid gold", complete with glass maple leaf bottles as wedding favors.
Whimsical and attractive, New Park in Ithaca, N.Y. welcomes outdoor ceremonies in a gorge under the trees. The unique setting is equal parts quirky and enchanting, offering a blank canvas among natural beauty to design the event of your dreams. Wedding guests can enjoy a community firepit, glamping tents and gathering space. With the ability to exclusively rent the campus for the entire weekend, couples are able to host all aspects of their wedding - rehearsal dinner, ceremony, reception, and brunch - in one location. New Park is also home to three guest cottages with five luxury suites, each with their own unique features such as stone work and stained glass.
For more information about wedding venues across the region, visit https://www.fingerlakestravelny.com/ .
###
The Finger Lakes Regional Tourism Council
The breathtaking Finger Lakes takes its name from eleven lakes spanning the region like a giant handprint, stretching from its easternmost point in Onondaga County to its westernmost border in Livingston County, near Letchworth State Park. Boasting a mix of nature trails and natural beauty, wineries and breweries scattered across the region, and quaint villages close to large metropolitan areas, the Finger Lakes Vacation Region has a plethora of tourist attractions within its borders.
In January 2014, the 14 Official County Tourism Promotion Agencies of the Finger Lakes Vacation Region formed a 501(c)(3) organization known as the Finger Lakes Regional Tourism Council (FLRTC). The FLRTC Board includes representation from all 14 TPAs and counties: Cayuga, Chemung, Cortland, Livingston, Monroe, Onondaga, Ontario, Schuyler, Seneca, Steuben, Tioga, Tompkins, Wayne and Yates. For information about attractions and events throughout the Finger Lakes region, visit https://www.fingerlakestravelny.com/ or call 1-888-408-1693
Photo Caption: Heron Hill Winery Wedding Tent _ Vineyard by Tory Williams Photography_ Provided by Corning and the Southern Finger Lakes
Media Contact:
Lisa Burns
Executive Director, FLRTC
O: 585-484-8844
C: 585-410-1528