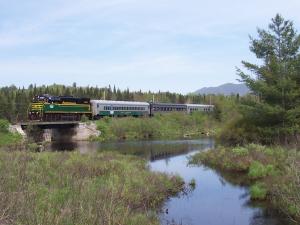 Tupper Lake, NY (July 5, 2023) – The Adirondack Railroad is offering three extraordinary train rides, providing unforgettable experiences that combine the best of railway travel and exploration. The trains depart from Thendara, Utica, and Tupper Lake providing excursions to and from the Tupper Lake area throughout summer and fall.
The Adirondack Mountaineer and the High Peaks Limited transport passengers to Tupper Lake, from Utica and Thendara, encouraging visitors to discover Tupper Lake's attractions, restaurants, shops and activities. The Tupper Lake Explorer provides a round trip journey from Tupper Lake to Sabattis.
The Adirondack Mountaineer departs from Thendara, New York at 9:30 a.m. on Sundays throughout the summer and fall, transporting passengers over rivers and streams and through evergreen forests to Tupper Lake. Travelers have the unique opportunity to spend a 4.5-hour layover in downtown Tupper Lake visiting the town's local restaurants, shops, and attractions.
This summer, the Adirondack Railroad Preservation Society is partnering with Tupper Lake Central School District to provide buses for passengers during the Adirondack Mountaineer's layover, providing transportation to the Park Street business district or the Wild Center, a family-friendly natural history museum that shares the story of the Adirondacks, complete with an elevated trail for visitors to climb across the treetops. The bus provides round-trip transportation to and from these local attractions for rail passengers.
The Tupper Lake Station also offers 2-hour railbike excursions, another option for exploring the area as visitors can continue along the local rail line. Riders can pedal a 7-mile round trip route along the rails while taking in spectacular views of the Raquette River. Railbike excursions are available everyday in the summer and weekends through September and October. Passengers should visit adirondackscenicrailbikes.com to reserve a railbike excursion ahead of their visit. 
According to Katie LaLonde, Regional Office of Sustainable Tourism's Tupper Lake marketing manager, the Tupper Lake area offers exciting opportunities in its downtown area. "Tupper Lake is a vibrant community," she said. "The restaurants, activities, waterfront, events and attractions sometimes take visitors by surprise. There is so much to see and do in Tupper Lake, whether it be a concert, a baseball game, a visit to the Wild Center, visiting one of the most popular Adirondack breweries, or meandering along Main Street, Tupper Lake is a fantastic place to discover."
The High Peaks Limited train offers a similar route with an additional starting point, further away in Utica, with a 1.5-hour layover in Tupper Lake. This route was renewed last fall for the first time in 57 years; this summer, it will provide trips on July 22, August 19 and October 14.
This scenic ride offers a full day adventure beginning at 8:30 a.m. from Utica or at 11:00 a.m. from Thendara, arriving in Tupper Lake at 1 p.m. Passengers will have an hour and a half layover in Tupper Lake before heading back to Thendara or Utica at 2:30 p.m. Those who choose to disembark for lunch can visit Tupper Lake's charming restaurants, many within walking distance of the train station. First-class and diamond-class ticket holders can enjoy additional amenities, such as a complimentary beverage, hors d'oeuvres, and seating in the Dome car, which offers 360-degree views. The cafe car will also be available for coach customers. 
The Tupper Lake Explorer invites passengers on a two-hour train ride from Tupper Lake to Sabattis, immediately returning to its starting point. This enchanting journey starts at 12:30 pm on Sundays throughout the summer and fall. It crosses the Raquette River, small Adirondack lakes, and expansive marshes. Passengers will be able to spot the ruins of an old mill or catch a glimpse of the fire tower atop Mt. Arab. The Tupper Lake Explorer offers an unparalleled experience for nature enthusiasts and explorers of all ages. 
Adirondack Railroad's rail experiences provide transportation to and from villages that provide travelers with unique experiences. Visit www.adirondackrr.com for reservations and additional information.
About Adirondack Railroad
The Adirondack Railway Preservation Society (ARPS), operator of the Adirondack Railroad aims to preserve and restore rail service between the High Peaks region, Central New York and beyond via rail connections in Utica. ARPS partners with communities and businesses along the line to promote the railway and as an economic development driver while offering historical and environmental education opportunities. 
An image of the Adirondack Scenic Railroad is available here.
###
Contact:
Sydney Aveson, communications coordinator
Regional Office of Sustainable Tourism
518-831-5375
sydney@roostadk.com