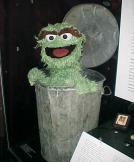 Who knew garbage could be this much fun? Celebrate going "green" during
School-Break Week: Trash Bash! at Strong National Museum of Play from Monday, April 20 through Friday, April 24.
Enjoy a week of green-themed activities, performances, and displays daily from 11:00 a.m. to 4:00 p.m.  Explore Creation Station, a giant room full of clean recyclables and "trash" that is at your disposal. Gather inspiration from artist Rich Kolb's quirky creations made from junkyard materials and create your own artwork. Then watch video footage of JUNK-a raft built from 15,000 recycled plastic bottles ... that sailed over 3,000 miles! Learn about the importance of recycling at performances of the interactive play
Basura
(Spanish for garbage!) at 11:00 a.m. and 12:00 noon daily. And delight in unique performances and guest appearances each day between 1:00 and 3:00 p.m.
ColorBrightonGreen.org
kicks off the week, sharing recycling and composting tips and craft ideas on
Monday, April 20.
Artists-in-residence Barbara and Richard Devine work on new creations and showcase sculptures composed partly of salvaged materials
Tuesday through Thursday, April 21-23.
Glenn McClure presents The Great Garbage Concert
Wednesday, April 22 and Friday, April 24 at 1:00 and 2:00 p.m.
Enjoy the bumps, bangs, whooshes, and whirls of this musical recycling show and see the Garbaphone-a seven-foot-long pile of musical trash! On
Thursday, April 23,
listen to stories and learn how to recycle your books and magazines with representatives from the Monroe County Library System
.
And don't miss
Sesame Street
television clips about recycling, such as "Box City Recycling Rap" and "Elmo Recycles," on view in the Sesame Street Theater. All School-Break Week performances and activities are included with general museum admission fees. ================================================= Strong National Museum of Play®, located in downtown Rochester, New York, is the only museum in the world devoted solely to the study of play as it illuminates American culture.
Museum Hours:
Monday-Thursday, 10:00 a.m. to 5:00 p.m.; Friday and Saturday, 10:00 a.m. to 8:00 p.m.; Sunday, 12:00 noon to 5:00 p.m.
Admission Fees:
General Admission (does not include admission to
Dancing Wings Butterfly Garden
®): Adults $10.00; Seniors $9.00; Children (2-15) $8.00; Children younger than two free; Strong members free.
Admission to Dancing Wings Butterfly Garden®:
General Admission fee plus $1.50 for members, $3.00 for nonmembers; Children under 2 free. Entry is by timed ticket only. Please call 585-263-2700 to reserve and purchase tickets.
Contact:
Susan Trien; 585-410-6359;
strien@museumofplay.org