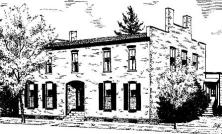 ...Giving Schuyler History a Future
Montour Falls, N.Y.
- The Schuyler County Historical Society is pleased to announce that it has reached nearly 58%* of its Capital Campaign's fundraising goals. The year-long campaign, celebrating 50 years of the Society's progress and programs, officially kicked off in September of 2010. Campaign pledges, donations, and special event ticket sales have helped the Society's fund grow to over half of the $150,000 it hopes to raise by September of 2011.  Museum director Andrew Tompkins stated "I am thrilled to see the progress of the campaign thus far. We still have a long way to go, but I am confident that the importance of all that the museum represents will continue on through the generosity of our supportive communities." Dollars raised from the Capital Campaign are crucially needed for building upkeep and maintenance, artifacts and records preservation, and exhibits expansion.  Headquarters for the Society are located at the Brick Tavern Museum in Montour Falls. A former tavern and stagecoach stop built in 1828, the museum building is one of the oldest brick structures in Schuyler County. Today, the museum houses Schuyler's proud history, treasures from local residents, estates, and other rare items which are showcased, often with seasonal and rotating displays, for the public, visitors, school groups or the average history buff to visit and enjoy.  Another goal of the Anniversary Campaign is to encourage public awareness of the Society. "Many folks do not realize what are behind the walls of the Museum," said Barbara Bell, county historian. "We have a strong base of members that have supported the Society over the years, but we want to expand upon this and encourage the younger generations to appreciate all that the Society has to offer. Whether it's exciting students' curiosity and assisting them with school research projects, helping a young couple learn about their family roots and genealogy, or working with a local business or home owner to track the different activities and structures that were once on their property grounds, the true value of the Society can only be continued by preserving local history through awareness, excitement and appreciation by spreading knowledge to others," she added. Benefits of Society membership include usage of library research materials, subscription to the quarterly Schuyler history Journal and newsletter The Vista, full voting privileges to help shape the Society's future, invitation to special Society programs and events, and networking opportunities in an important community organization.  The Society also looks to the holiday season as a positive time for membership efforts and increased pledges as local supporters and businesses seek out charitable causes to donate to and support.  Any interested individuals that would like to learn more about the Society, its mission, programs, efforts, benefits or how to become a member or donate to the 50th Anniversary Capital Campaign  are encouraged to call (607) 535-9741, write 108 N. Catharine Street (Rt.14), PO Box 651 Montour Falls, NY 14865, or email info@schuylerhistory.org.
About The Schuyler County Historical Society
The Schuyler County Historical Society was founded in 1960 and is a 501c(3) tax exempt charitable organization. The Society is made up of approximately 400 members and a dedicated, countywide representative, Board of Trustees.  The Society receives support from its membership, which includes those interested in Schuyler County history, local businesses, organizations, Schuyler County government, and the local town and village governments.  *campaign total thus far includes uncollected pledges.
###
Contacts
: Andrew Tompkins, Museum Director or Barbara Bell, County Historian 607-535-9741
http://www.schuylerhistory.org/