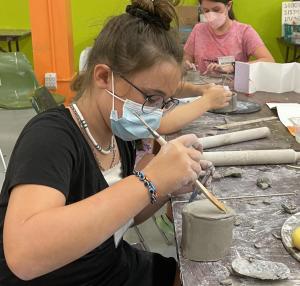 Auburn, NY (June 27, 2023) – Pre-teens and teens can stay creative this summer by taking exciting afternoon Art Camp sessions at Schweinfurth Art Center in Auburn. A few spots are available in three camps for students aged 11 to 15.
A Deep Dive into Color meets 1 to 4 p.m. July 24-28, 2023. Teens will study color theory and the principles of design while using graphite pencil, charcoal, and pen and ink drawing techniques to superimpose, layer, and interact with various colorfully painted surfaces, including paper, canvas, and kiln-fired clay. The camp is taught by Warner Varno, and it costs $130 for Schweinfurth members and $140 for nonmembers.
Teen Ceramic Summer Camp offers intensive ceramic exploration from 1 to 4 p.m. July 31 to Aug. 4, 2023. Campers will spend two days learning how to throw on a wheel, two days hand building, and the last day will cover surface decoration and painting. The camp is taught by two teaching artists, Victoria Savka and Zoey Murphy Houser. Cost is $200 for Schweinfurth members, $210 for nonmembers.
In Make Your Own Book, students will look at examples of different types of books and utilize prompts from Catkid Comic Club Series, Book Making for Kids, and Lynda Barry's Making Comics and try such art techniques as sewing, stamping, collaging, printing, and illustrating, turning their artwork into a bound book. Reina Apraez will teach the camp, and it costs $130 for Schweinfurth members and $140 for nonmembers.
To register for any of these camps, link to our website at https://schweinfurthartcenter.org/youth-classes/ or call 315-255-1553. Scholarships are available; contact Julia Banfi at the number above for more information.
Summer Art Camp is sponsored by Frederick M. and Ora H. Everett Charitable Trust, Skaneateles Arts Foundation, and New York State Council on the Arts.
###
About the Schweinfurth
The Schweinfurth Memorial Art Center is a multi-arts center that opened in 1981 thanks to a bequest from Auburn-born architect Julius Schweinfurth. The art center's programs include more than a dozen exhibitions each year and educational programs for children and adults, which feature local, national, and international artists. For more information, link to schweinfurthartcenter.org.