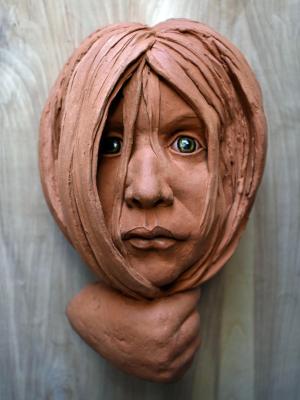 Auburn, NY (May 11, 2023) – Syracuse-area native Magda Gluszek has always been drawn to the narrative aspect of figurative artwork, expressing emotions through the faces and hands she creates out of clay. "I think that face and hands are the places that we automatically most often look when we're trying to understand someone's emotional state or the story that they are telling us," she said. "We communicate so many things in our facial expressions and the ways in which we gesture or pose our hands."
Conveying emotions in clay is the focus of a three-day workshop Gluszek, who grew up in Liverpool, is teaching June 23-25, 2023, at the Schweinfurth Art Center in Auburn, NY. In the workshop, "Sculpting Heads: Let's Get Expressive!", students will sculpt a head and accompanying hand that captures an expression.
"Adjusting the position and placement of a hand on a face can mean the difference between communicating fear, nervousness, or glee," she said.
Gluszek, who earned her bachelor's degree at SUNY Fredonia and MFA at the University of Florida, currently lives in a remote area of northeastern Arizona. She is drawn to create out of clay, a material she calls formless and malleable.
"I love the fluidity of working with clay and the ability to work both additively and subtractively as a sculptor," she said. "Clay is such an expressive and receptive material, and it lends itself really well to imitating the human form. There is something about raw, unfired clay that feels alive to me, like skin."
Nature has become an important focus in Gluszek's recent work. She spends a great deal of her free time hiking through wilderness areas, where she draws inspiration for her artwork. "I realized a few years ago that I had shifted towards expressing more of my concepts relating to human interactions with the natural environment," she said.
But as she explored that topic, something began to bother her. "Firing clay uses an incredible amount of energy. When clay is fired, it goes through a chemical change that permanently alters it into a stone-like material," she said. "So a lot of energy is expended, and then you end up with a permanent physical object that would take an incredible amount of energy to break back down again."
So lately Gluszek hasn't been firing many of her artworks in her current "Ephemera" series. Instead, she brings the piece to the wilderness location that inspired it and documents it on video before recycling the clay for another piece.
"I started this as an experiment to see how attached I felt to the idea of making my artwork permanent," she said. "I was surprised to feel more excited about making this type of work than I expected. Not having to fire these artworks and to feel responsible for finding them a permanent home feels like a burden has been lifted from me."
Gluszek isn't recommending that participants in her June workshop forgo firing. Students will learn basic facial proportions and how to form details like eyes, noses, mouths, ears, and hair. They will build their heads on a simple plumbing pipe armature before hollowing it out for firing in the Schweinfurth's kiln.
"Students do not need any prior sculpting experience for this class," she said, adding that as a community college professor she often teaches introductory level figurative sculpting classes. "The technique I teach -- and use to make my own work -- is very forgiving. It is a solid building method, allowing the artist to add clay to the form and subtract it as often as they need to get the form they want."
People shouldn't be intimidated by the workshop's focus on sculpting faces and hands, Gluszek said. "What makes art truly interesting to me, and something worth spending time experiencing, is not the ability of the artist to reproduce something that exists in reality, but what they communicate about the nature of reality," she said.
"When I teach the head/face and hands, I break things down into proportions and step by step techniques," she continued. "I think that breaking things down into steps helps us understand how to approach a complex form."
People interested in taking Gluszek's workshop can register on the Schweinfurth Art Center's website at https://schweinfurthartcenter.org/inspire_events/sculpting-heads-lets-get-expressive/. Anyone interested in hearing more about the workshop can contact Gluszek through her website at https://www.missmagdag.com/.
Cost for the class is $490 for Schweinfurth members, $500 for nonmembers. All supplies are included, and students will receive three weeks of free studio time after the workshop to finish their pieces and fire them.
Just the facts
WHAT: Sculpting Heads: Let's Get Expressive! three-day workshop
WHEN: 9 a.m. to 4 p.m. Friday June 23 to Sunday June 25, 2023
WHERE: Schweinfurth Art Center, 205 Genesee St., Auburn
WHO: Taught by Magda Gluszek
COST: $490 for Schweinfurth members, $500 for nonmembers
REGISTER: https://schweinfurthartcenter.org/inspire_events/sculpting-heads-lets-get-expressive/
Note to editors
High-res images to accompany this story can be downloaded from the following Dropbox folder: https://www.dropbox.com/scl/fo/jwvp8ged08qffo11n9jeq/h?dl=0&rlkey=hqv4bw2vye2mh4f8fftggqjne
About the Schweinfurth
The Schweinfurth Memorial Art Center is a multi-arts center that opened in 1981 thanks to a bequest from Auburn-born architect Julius Schweinfurth. The art center's programs include more than a dozen exhibitions each year and educational programs for children and adults, which feature local, national, and international artists. For more information, link to schweinfurthartcenter.org.
For more information, contact:
Maria Welych, Marketing Director
Schweinfurth Art Center
315.255.1553 w. | 315.380.6472 m.