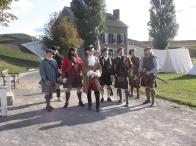 Oswego, NY
-- Citizens of Scottish descent and anyone interested in Scottish history are invited to attend the 2nd annual Scots-Jacobite special event at Old Fort Ontario on Labor Day weekend, Saturday and Sunday, September 5-6. The unique event will feature demonstrations of 18th century Scottish life, historic weapons drills, open fire-pit cooking, battle recreations, games, music, colorful period clothing, tents, and some first person interpretation.  Public hours are 10 a.m. to 4:30 p.m. Saturday and Sunday; regular admission will be charged. Friends of Fort Ontario will be admitted free. Historical re-enactors portraying notable figures of the Jacobite uprising of 1745 – 1746 will recreate the landing of Prince Charles Edward Stuart – "Bonnie Prince Charlie," who sailed from France to Glenfinnan, Scotland, in July 1745. The "Prince" will once again rally the Highland Clans, raise an army, and attempt to restore his father, King James III & VIII to his rightful place on the throne of Great Britain. On Saturday morning around 11:45 a.m. a ship will put the Prince ashore near Flat Rock north of the fort. Battle re-enactments will include the failed Jacobite attack on Ruthven Barracks in the northern Highlands of Scotland on Saturday afternoon at 2:30 p.m., and a successful storming of the British outpost at Fort Inversnaid on Sunday at 2:30 p.m. Each battle will include an assault on the fort with sword, musket, and cannon. Another highlight of the weekend will be Highland Games on Saturday at 4 p.m. The public is invited to bring a picnic lunch and spend the day learning about 18th century Scottish culture. Fort Ontario is located at the north end of East Fourth Street, off Route 104E in the City of Oswego, New York.
Schedule
Saturday: 10:00 AM Fort Opens 10:30 AM Dress Parade & Weapons Drill 11:45 AM Prince Charles lands near Flat Rockashore 1:00 PM Clan Delegations Meet the Prince 2:30 PM Battle of Ruthven Barracks 3:30 PM Ladies Tea 4:00 PM Highland Games 5:00 PM Fort Closes Sunday: 10:00 AM Fort Opens 10:30 AM Dress Parade & Weapons Drill 11:30 AM Raising of the Stuart Standard & Glenfinnan 1:00 PM Town life for Civilians 2:30 PM Battle of Fort Inversnaid 4:30 PM Fort Closes The Scots-Jacobite event is co-sponsored by King Arthur's Steak and Seafood Restaurant, the Friends of Fort Ontario, and New York State Parks. Fort Ontario State Historic Site is one of six historic sites and 18 parks in the Central Region administered by the NYS Office of Parks, Recreation and Historic Preservation, Carol Ash – Commissioner. For more information on NYS Parks visit the agency website at [www.nysparks.com], or on Fort Ontario contact Paul Lear (315) 343-4711 [www.fortontario.com]. End
Photo Caption
: Bonnie Prince Charlie will rally the clans at Fort Ontario Saturday and Sunday, Sept. 5 and 6, in Oswego, NY.
###
Contact
: Paul Lear, Historic Site Manager Fort Ontario State Historic Site 1 East 4th Street Oswego, NY 13126 (315) 343-4711