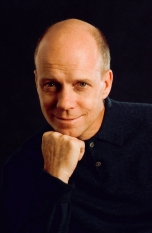 Lake Placid, N.Y. ---
Figure
skating icon Scott Hamilton is back, ready to thrill audiences with a new skating show, Scott Hamilton's Holiday Concert on Ice, coming to the Olympic Center in Lake Placid, N.Y. on Tuesday, Dec. 29, at 7:30 p.m. For more than 20 years, the Olympic Champion and four-time World and U.S. National Champion wowed audiences with his annual Stars on Ice tour, which kicked off annually in Lake Placid.  Several of those performers are set to join the skating legend again including Ekaterina Gordeeva and Steven Cousins.  The show will also feature Kimmie Meissner, Jozef Sabovcik and Caryn Kadavy, all skating to music performed by a live band and American Idols Phil Stacey and Melinda Doolittle.  Tickets for the Dec. 29 performance of Scott Hamilton's Holiday Concert on Ice range in price from $90-$30 and are on sale now at the Olympic Center Box Office 518.523-3330 or online at
tickets.com
or
whitefacelakeplacid.com
.
About the Skaters
: Together with her late partner and husband, Sergei Grinkov,
Ekaterina Gordeeva
was the 1988 and 1994 Olympic Champion. She also began touring with Stars on Ice in 1991. 
Steven Cousins
is an eight-time British National Champion; he competed in eight World Figure Skating Championships and three Olympic Winter Games and toured with Stars on Ice until 2007, while
Kimmie Meissner
won both the 2007 World Championship crown and the 2007 U.S. National Championship title. Ms. Meissner was also the youngest American athlete to compete in the 2006 Torino, Italy Olympic Winter Games. 
Jozef Sabovcik
claimed the 1984 Olympic bronze medal and won both the 1985 and 1986 European Championship titles, while
Caryn Kadavy
, a 1988 Olympian, is a three-time U.S. National Championship medalist.
###
Established in 1982, the New York State Olympic Regional Development Authority (ORDA) was created by the State of New York to manage the facilities used during the 1980 Olympic Winter Games at Lake Placid. ORDA operates Whiteface and Gore Mountain ski areas; the Olympic Sports Complex at Mt. Van Hoevenberg; the Olympic ice and jumping complex and Olympic arena. As host to international and national championships, the Authority has brought millions of athletes, spectator and participants to the region, resulting in significant economic development. 
CONTACT:   
Jon Lundin (
jlundin@orda.org
) at (518) 523-1655 ext. 213