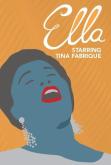 July 24 - August 12, 2012
Previews start July 20 - 22, 2012
Albany, N.Y. -
When Broadway veteran Tina Fabrique unleashes her critically acclaimed talent as
ELLA
at Capital Repertory Theatre this month -the show previews on July 20, 21, 22 and plays officially from July 24 through August 12 - she'll showcase her considerable gifts in the service of 28 standards associated with the late Ella Fitzgerald -- with the able assistance of a select group of seasoned musicians, each of whom has imprinted his own signature in the annals of music history. According to Capital Rep's Producing Artistic Director Maggie Mancinelli-Cahill, "As far as I can tell, our musicians -- George Caldwell, Rodney Harper, Ron Haynes and Derick Polk - are as excited to be in Albany as we are honored to have them here. We've already had inquiries asking if they might jam in the Capital Region during the run." George Caldwell has been with
ELLA
as musical director and pianist since the show's conception.  His credits include decades of experience in jazz, pop and musical theatre, highlighted by three years with Duke Ellington and seven years with the Count Bassie Orchestras as well as work on numerous national and international Broadway tours.  Rodney Harper on drums, Ron Haynes on trumpet and Derick Polk on bass all hail from Chicago, where they have played with diverse artists including Della Reese, The Drifters, Billy Eckstein, Ramsey Lewis, The Coasters, Dizzy Gillespie and Lenny Kravitz to name only a few. This collective powerhouse of talent and experience makes a surefire combination to fascinate and entertain attendees at
ELLA
and music lovers throughout the extended Capital Region. For tickets and information, call Tickets by Proctors at 518-445-SHOW.
George Caldwell
(Pianist / Musical Director) Mr. Caldwell is a veteran of Broadway having worked on
Black and Blue
and
Play On!
as well as having served in orchestra pits for
Bring In 'Da Noise, Bring In 'Da Funk, The Full Monty
, etc. In addition to providing musical direction for the European tour of
Black and Blue
and serving as associate conductor for the tour of
Body and Soul
in Europe, Caldwell has toured regionally, including serving as musical director for the original musicals
Thunder Knocking on the Door, Golden Boy
at Long Wharf, and productions of
Cookin' at the Cookery
. Caldwell also played for three years with the Duke Ellington orchestra, and seven years with the Count Basie orchestra. The Basie Orchestra received a Grammy award with Caldwell at the piano for the recording
The Count Basie Orchestra Live at the Manchestra Craftsman's Guild
(with the New York Voices). He has performed with many artists, performers as diverse as George Benson, Savion Glover, Lou Rawls, Elvis Costello, Art Blakey, Shirley Bassey, Freda Payne, Wynton Marsalis, Lionel Hampton, the Manhattan Transfer, Bobby McFerrin, Al Jarreau, The Coasters, Cab Calloway, Quincy Jones, Gregory Hines, Dizzy Gillespie and Brenda Lee. Caldwell has played and conducted
Ella
since it's inception.
Rodney Harper
(Drummer) Mr. Harper comes to Capital Repertory from Chicago, where he began playing jazz and rhythm and blues in the South Side nightclub scene. Those who are hip to the jazz scene will recognize the artists he has accompanied, including tours with Grammy Award winners Billy Eckstein and Della Reese. Mr. Harper has worked with Dakota Staton (of "Late Late Show" album fame), jazz instrumentalist Richard "Groove" Holmes, Jimmy McGriff, Hank Crawford, Charles Earland and saxophone giants Sonny Stitt and Frank Foster. Beginning in 2005, he has backed the very swinging Marlena Shaw. In the theatre world his credits include
Ain't Misbehavin'
(first national and world tours) and
Bubbling Brown Sugar
(European tour). Rodney has also played the national and
European tours of Blackbirds of Broadway
and
Cookin' at the Cookery
. Finally, his drumming has helped propel the Dells, the Impressions, the Coasters, the Drifters and the Marvellettes in rock and roll revival shows.
Ron Haynes
(Trumpet) Ron Haynes began his career as a trumpeter while in his teens, gigging with various blues artists. He studied at Shaw University in N.C., and North Carolina Central University, studying under jazz great Donald Byrd. Ron was the horn section leader for Bernie Mac's HBO show
Midnight Mac
with Bernie Mac, later joining the Ohio Players. While playing with
Liquid Soul,
their CD
Here's the Deal
was Grammy-nominated for Best Contemporary Jazz Album in 2001. Ron has also worked with Ramsey Lewis, being featured on
Urban Knights IV
and
The Chicago Project,
and in 2005, participated in a world tour as a member of Lenny Kravitz's band. In 2007, Ron began his acting career in Northlight Theater and Dallas Theater Center's production of
Ella
, and has since been involved with the production at various other theaters. In 2008, he was the trumpeter and an understudy for Drury Lane's production of
The Buddy Holly Story
. Ron has released three solo CDs (
Cool Work, Can You Hear Me
and recently released
Journeyman
.)
Derick Polk
(Bassist) Derick Polk is a retired Navy Musician. He has performed with the following artists and musicians, Ernestine Anderson, Fred Anderson, Rosemary Clooney, Lou Donaldson, Von Freeman, Dizzy Gillespie, Eddie Harris, Bunky Green, Milt Jackson, Henry Johnson, Delfeayo Marsailas, Ronnie Matthews, Hilton Ruiz and Clark Terry. Derick has performed in the national tour of
Ain't Misbehavin
and in productions
of Anything Goes, Chorus Line, Godspell, The King and I, My Fair Lady
and
Oklahoma
. He has also performed with the Bremerton Symphony, Ravenswood Community Orchestra and Lake Shore Symphony Orchestra. You can see Derick performing with various musicians at various venues in the greater Chicago area.
SPECIAL EVENTS FOR ELLA!
Opening Night
- Tuesday, July 24, 2012
6:30PM - Live music in the lobby with acclaimed soprano Amy Shake. 7:30PM - Curtain Post- show: Meet the cast at a complimentary champagne and dessert reception.
Chef's Table Night
 -
Tuesday, July 31, featuring 677 Prime.
                                                  6:30PM - All patrons are invited before the show to enjoy live music featuring soprano Amy Shake and free hors d'oeuvres compliments of 677 Prime- one of the best kept secrets in town!
Discussion Nights
- Wednesday, August, 1 and Wednesday, August, 8 Get the scoop at a post-show discussion with the cast. 
Behind-The-Scenes with Maggie
- Sunday, August 12           12:45PM - Complimentary continental breakfast for all patrons. 1:10-1:30PM - Pre-show "Behind-The-Scenes" discussion, "How to Choose a Season," with Producing Artistic Director Maggie Mancinelli-Cahill.
TICKET Prices
Tickets for ELLA at Capital Rep Theatre are:Repertory Theatre are:
ICKET RICES:
WEEKENDS: $20, $50, $60 & $75 WEEKDAYS: $20, $40, $50 & $65
Three ways to buy tickets
1. In person at the Tickets by Proctors Box Office (432 State St., Schenectady, NY 12305)
Mon - Fri: 10AM - 6PM, Sat - Sun: 10AM - 5PM
Or at the Capital Rep Box Office 2 hours prior to each show
2. On the phone, call Tickets by Proctors  (518) 445-SHOW
Mon - Fri: 10AM - 6PM
Sat - Sun: 10AM - 5PM
3. Online at
http://www.capitalrep.org/
Curtain Times:
Friday: 8:00PM
Saturday: 3:00PM & 8:00PM
Wednesday & Sunday: 2:00PM
NOTE: Capital Rep has added regular Wednesday matinees at 2:00PM
About CAPITAL REPERTORY THEATRE
111 NORTH PEARL STREET, ALBANY, NY 12207
Capital Repertory Theatre is the only resident professional theatre company in New York's Capital District. As members of the League of Resident Theatres (LORT), Capital Rep proudly operates within agreements with the Actors Equity Association.
ELLA SONG LIST
How High The Moon
(Nancy Hamilton and Morgan Lewis)
It Don't Mean A Thing (If It Ain't Got That Swing)
(Duke Ellington and Irving Mills)
The Apollo Theme: I May Be Wrong (But I Think You're Wonderful)
(Harry Ruskin and Henry Sullivan)
Love and Kisses
(Sonny Curtis)
Judy
(Hoagy Carmichael and Samuel Lerner)
Cow Cow Boogie
(Benny Carter, Gene DePaul and Don Raye
I'll Never Be The Same
(Frank Signorelli, Gus Kahn and Matt Malneck)
You'll Have To Swing It (Mr. Paganini)
(Sam Coslow)
The Nearness of You
(Hoagy Carmichael and Ned Washington)
They Can't Take That Away From Me
(George Gershwin and Ira Gershwin)
A-Tisket, A-Tasket
(Ella Fitzgerald and Van Alexander)
Flying Home
(Benny Goodman and Lionel Hampton)
Night and Day
(Cole Porter)
That Old Black Magic
(Johnny Mercer and Harold Arlen)
Lullaby of Birdland
(George Shearing and George David Weiss)
'S Wonderful
(George Gershwin and Ira Gershwin
Cheek to Cheek
(Irving Berlin)
Let's Call The Whole Thing Off
(George Gershwin and Ira Gershwin)
My Buddy
(Gus Kahn and Walter Donaldson)
The Man I Love
(George Gershwin and Ira Gershwin)
Something To Live For
(Edward Kennedy "Duke" Ellington and Billy Strayhorn)
Blue Skies
(Irving Berlin)
Oh, Lady Be Good
(George Gershwin and Ira Gershwin)
ALL SONGS USED BY PERMISSION
ALL RIGHTS RESERVED
###
0
Contact:
Thom O'Connor 518-382-3884 X166
toconnor@proctors.org