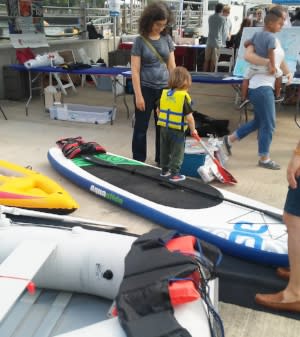 Syracuse, N.Y. – Ever seen a boat that folds flat to carry on your cartop? Stop by the Exhibit Center of the 2018 Central New York Boat Show now on at the New York State Fairgrounds in Syracuse through Sunday, February 18. New York Sea Grant has its Inflate-A-Fleet exhibit on display with assorted inflatable and folding vessels, including a boat, kayak, and backpack paddleboard.

These unusual vessels are the educational tools for the 2018 New York Sea Grant Discover Clean and Safe Boating campaign with a Get Out on the Water: Everyone Can Enjoy Boating theme. The traveling exhibit debuted in New York City in 2017.
 
"Every year we select a different style of boat to showcase the diverse ways to enjoy the fabulous waters of New York State and to teach how to be safe, in compliance with boating law, and environmentally-friendly on the water," says Discover Clean and Safe Boating campaign creator and award-winning boating educator Dave White, a Great Lakes coastal recreation and tourism specialist with New York Sea Grant, Oswego, NY.
 
White notes that the unique Inflate-A-Fleet components are considered boating vessels subject to applicable boating laws and standards.

Also at the show: A 15-minute introduction to the Suddenly In Command training offered by the US Coast Guard Auxiliary and New York Sea Grant aboard a pontoon boat in the Oneida Lake Marina Booth E-21 in the Exhibit Center building today and Friday at 6:30 pm, and on Saturday and Sunday at 2:30 pm.

The introduction covers the key points of the training designed to help a passenger who is not a boater manage the boat in the event of an unexpected emergency on the water.
 
The Great Shipwrecks of NY's Great Lakes exhibit will be on display at Booth H-14 in the Horticulture Building. New York Sea Grant developed the exhibit highlighting details about historic shipwrecks in waters across New York State.
 
Media Contacts:  
. Dave White, NY Sea Grant, 315-312-3042
. Drew Wickham, CNY Boat Show Manager, 585-526-5460
. Publicist Kara Lynn Dunn, 315-465-7578, karalynn@gisco.net
PHOTO: The New York Sea Grant Inflate-A-Fleet educational exhibit that made its debut on the New York City waterfront in 2017, above, is coming to the Central NY Boat Show February 15-18, 2018.