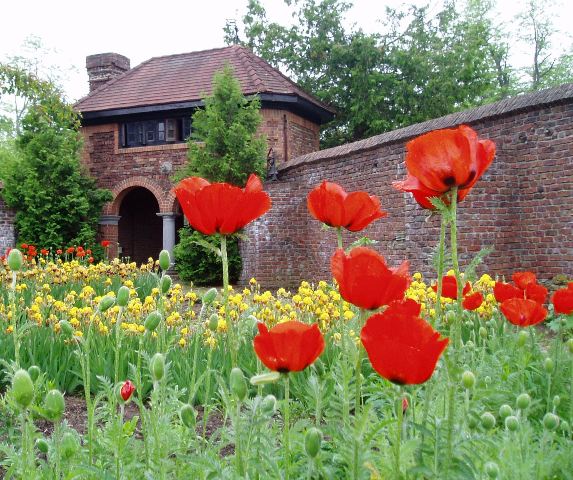 Season Opens June 1!
Ticonderoga, N.Y. – The King's Garden opens for the season on June 1 awash in the colors of the classic bearded iris and other early blooming perennials and annuals.  The garden celebrates the history of agriculture on the Fort Ticonderoga peninsula with tours, programs and special events throughout the season.  Opportunities abound for all, including hands-on family programs, adult learning, daily guided tours and quiet strolls with outstanding scenery, volunteer initiatives, and the festive garden party.
The first program in the King's Garden Workshop Series on herbs takes place on Wednesday, June 8th at 1:00 PM – Nature's Wild Herbs Discovery Walk with local herbalist Nancy Wotton Scarzello.  Participants of this 90-minute walk and talk will tour the Healing Herb Garden and the garden grounds and field edges to learn about the traditional and folkloric uses of herbs and wild plants, identification, and ways they are used today.  Pre-registration is required and the cost is $15.  The rain date is June 9.  For more information or to register, call (518) 585-2821 or email garden@fort-ticonderoga.org.  Visit our website for a complete listing of programs in the Fort and King's Garden, www.FortTiconderoga.org.
The King's Garden is a restored pleasure garden located on the grounds of Fort Ticonderoga.  Tours, educational programs, and demonstrations highlight the beauty and history of the garden throughout the season. The Discovery Gardens outside the walls and acres of manicured grounds offer an idyllic setting for exploration and relaxation. The King's Garden is open June 1 – Columbus Day, October 10, from 9:30 am to 5:00 pm.
FORT TICONDEROGA
America's Fort
Located on Lake Champlain in the beautiful 6 million acre Adirondack Park, Fort Ticonderoga is a private not-for-profit historic site and museum that ensures that present and future generations learn from the struggles, sacrifices, and victories that shaped North America and changed world history.  Fort Ticonderoga offers programs, historic interpretation and tours, garden tours, demonstrations and exhibits each day from 9:30 am-5 pm, May 20- Oct. 20. The 2011 season will feature The Art of War: Ticonderoga as Experienced through the Eyes of America's Great Artists exhibit highlighting the Fort's extensive art collection by some of America's greatest artists. A full schedule and information on events can be found at www.Fort-Ticonderoga.org or phone (518) 585-281. Fort Ticonderoga is located at 100 Fort Ti Road Ticonderoga, New York.
###
Photo: Oriental poppies and bearded irises accent the King's Garden teahouse located at Fort Ticonderoga.
Contact:
Beth Hill - 518-585- 2821/Nancy LaVallie 518-585-2821