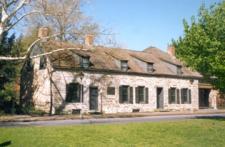 Kingston, N.Y.
- Come to the Senate House State Historic Site in Kingston for Apple Heritage Day Sunday, Sept. 25 from noon to 5 p.m. Held in conjunction with Ulster County Cultural Heritage Week, you can enjoy a variety of 18
th
century apple related activities in celebration of Ulster County's apple growing heritage! Afternoon activities include pressing apples for apple cider, making apple butter over an open fire, baking apple sauce cake in a Dutch oven and making dried apple wreaths and dolls.  At 1 and 3 p.m. enjoy the 18
th
century magic of Bob Olson A.K.A. Mr. Bayly. The kids will be entertained at 2 and 4 p.m. with puppet shows. Also throughout the afternoon enjoy 18
th
century music performed by Rural Felicity and help the Senate House wish Johnny Appleseed a happy 237
th
birthday!  Admission to this event is free and as usual Senate House will be open for tours.  Fees to tour Senate House are $4.00 for adults, $3.00 for seniors and children 12 and under are free. Senate House State Historic Site is part of a system of parks, recreation areas and historic sites operated by the New York State Office of Parks, Recreation and Historic Preservation, and the site is one of 28 facilities administered by the Palisades Interstate Park Commission in New York and New Jersey.  For further information about this and other upcoming events please call the site at (845) 338-2786 or visit the State Parks website at
http://www.nysparks.com/
.
Contact
: Tom Kernan, Senate House State Historic Site, (845) 338-2786