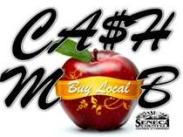 Senaca Falls, N.Y.
- The Seneca County Chamber of Commerce has announced that it will be hosting the area's first ever Ca$h Mob, a style of event that is popular in the mid west and west coast, and often has received national attention. The concept includes hosting a scheduled mass meeting of people, that gather to visit a small local business on the same day, at a set time, to make purchases- while patronizing the local establishment, and driving local sales. One of the components that add to the hype of a Cash Mob is that the location remains a mystery until the event happens. The only information that is given out in advance is the date and time, and then several hints that describe and inform details about the mystery location, leading up to the event. From there, the group of attendees that are actually present are both honored and thanked for their local patronage efforts, as well as their knowledge and support of community businesses by successfully working to figure out the business whereabouts in support of what the Cash Mob represents.   "We are excited to announce this event, as it is part of an overall effort that the Chamber is working towards by fueling the area's
Buy Local Campaign
with spending dollars and keeping business in Seneca County and its neighboring Finger Lakes' communities," stated Jeff Shipley, the Chamber's Executive Director.   The Chamber has announced that the event will be held on Wednesday, August 29th, where guests are invited to arrive at the chosen business at 5:15pm with the intention of making a small purchase (under $20), where community members will have the opportunity to network with others, and see firsthand, how a local business will benefit from the immediate economic stimulus.  Location details can be found by looking for the event logo, in posts on the Chamber's websites-
http://www.senecachamber.org/
and
http://www.fingerlakescentral.com/
, as well as its social media outlets, Facebook- Seneca County (Chamber of Commerce)  and Twitter (Seneca CountyNY), that will begin giving hints to the location's details and whereabouts. For more information about this event, or details of how you can become involved, please call(315) 568-2906 or email
jshipley@senecachamber.org
.  
###
Contact:
Miranda O. Polmanteer Director of Communications and Tourism Promotion 315.568.2906