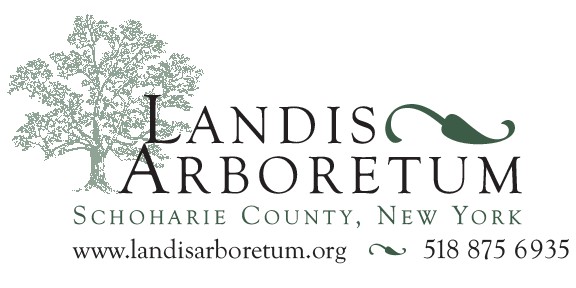 Combined Fall Plant Sale Fundraiser, Annual 5K, and VIP Bird Walk Top Bill
Esperance, NY
– Does the old saw that two heads - and maybe three -- are better than one apply to events as well? The leadership team at the Landis Arboretum is taking a chance that it does: plans are under way to combine the Arboretum's increasingly successful "perennial" 5K cross-country classic, its long-standing signature Fall Plant Sale fundraiser, and a VIP Bird Walk on Saturday, September 19. In addition to expected economies of scale and best use of volunteer time and support, the Arboretum hopes to introduce participants of one event to another and heighten the excitement of an extended stay at the 548-acre Arboretum.
5K, Cross County Family Classic
Runners of all ages and levels of proficiency will have the opportunity to compete while enjoying spectacular views of the Schoharie region countryside at this perennial Arboretum event. The event is professionally timed by the Albany Running Exchange. The cross-country course traverses many notable sites at Landis, taking participants past breathtaking vistas, ancient forests, and within sight of the 400-year-old Great Oak. Sign-in for the 5K will take place between 8 and 9 AM, followed by a 9:30 AM start time at the Meetinghouse field. The Arboretum continues its tradition of free family programs with its second annual Tot Trot starting at 10:30 AM. Awards include the top male and female in each age group (Details on ENTRY FORM at www.landisarboretum.org). Participants registered before September 1 will receive a race day tee shirt. Additional shirts will be on sale after the race. The Arboretum's Acorn Shop gift shop will be open throughout the weekend. KINTZ PLASTICS (Howes Cave) is the lead sponsor of the 5K event. Proceeds will benefit the Arboretum.
Annual Fall Plant/Used-Book/Bake Sale Fundraiser
This traditional two-day event takes place on Saturday, September 19, and Sunday, September 20, 10 AM - 4 PM. As always, the Arboretum will offer a wide variety of trees, shrubs, perennials, and mums for fall planting. Expect plentiful choices of both evergreen and deciduous plants, as well as some dwarf conifers. In addition, we will have a limited number of Van Loveland Garden plants, which will be dug up and potted up for sale. Fall is one of the best times to install plants, giving them up to eight months to establish strong root systems before the hotter, drier weather of the following season. Plant donations are needed. As readers divide overcrowded beds, please consider Landis as a destination for all those divisions. Used-Book Sale? Of course! The Arboretum offers used books on a variety of subjects, but its gardening selections are the most popular. Books to donate? Contact the Arboretum. Visit the Bake Sale. The Arboretum's selection of some of the best baked goods offered anywhere is reason enough to come to the sale. Hot and cold beverages, cold soda and water are available. To donate baked goods, contact Landis.
Early Morning VIP Bird Walk
Even casual visitors to the Landis Arboretum soon discover that bird watching is easy, fun, and an instant way for a family to share a day's outing. Birder Barbara Brabetz, chair of the Natural Sciences Department at SUNY Cobleskill and chief financial officer of the Arboretum welcomes the early birds and birders for a pre-5K warm-up and VIP delivery to the Starting Line! A limited number of participants is invited to begin the 5K/Plant Sale day with an Early Morning VIP Bird Walk at the Landis Arboretum with Professor Barbara Brabetz on Saturday, September 19, 6:30 - 8:30 AM. On-time start. Donations of $10/person to aid the Arboretum. Long-time bird lovers Barbara and Stephen Brabetz have created an up-to-date list of birds that one can expect to find; over 125 species keyed to the season. The colorful checklist fits easily into a hip or back pocket for bird-spotting. The Brabetz' Bird Checklist, published by the Landis Arboretum, is available at the Arboretum Acorn Gift Shop or via mail at a price that even a bird can afford! Participants in the VIP Walk will receive The Brabetz' Bird Checklist, published by the Landis Arboretum. Advance registration required. Limited to 20. Participants are urged to dress appropriately for the season, wear sensible shoes, and bring field glasses and camera!
Calling Kids of All Ages
The Arboretum offers classes, workshops, guided and self-guided nature study. Workshop subjects include hawks, moths, birds, amphibians and reptiles, and arthropods. Horticultural interests are the focus of classes in pruning, tree identification, daylilies, roses, trillium, and plant propagation. Ancillary workshops have focused on photography, botanical illustration, and landscape painting. The Arboretum is an ideal outdoor classroom for children. With more than 2,000 labeled species of trees, shrubs, and herbaceous perennials from around the world and two old growth forests with diverse wildlife habitats, children love the Arboretum and are eager to learn in this environment. A dynamic partnership with the Wildlife Learning Company (Oneonta) has heightened interest and participation in Arboretum events. A full-service environmental education company offering services and products to schools, libraries, environmental organizations and members of the general public, the Wildlife Learning Company/Arboretum partnership promotes conservation through education and strives to connect people to nature by providing programs and products that foster an appreciation of the natural environment, impart an understanding of how natural systems function, and create a desire for people to explore the natural world further and take personal responsibility for its protection and care. Wildlife Learning Company provided programs to more than 6,000 participants last year. The Landis Arboretum includes a nationally recognized collection of oaks and is registered with the North American Plant Collections Consortium (NAPCC). The Arboretum also is included in the New York State Route 20 Bluebird Trail, bringing even more birdwatchers to the site. The Arboretum's vast dark sky and wide horizons attract area astronomers to its meetinghouse and parking field for sky-watching events The Arboretum is central to the New York State Wine and Spa Trails and in close proximity to historic Sharon Springs. And, it is a natural stop for those traveling to the high-volume tourist attractions between the Albany, Cooperstown, and Finger Lakes Regions. The Landis Arboretum is located 1.5 miles off Scenic designated Route 20 in Esperance, NY, a beautiful and easy drive from within the Capital Region. There, with decades of history and the riveting beauty inherent in the Arboretum's noteworthy collections, generations of extraordinary plantings continue to impart their secrets to its visitors. For more information, call 518-875-6935;
http://www.landisarboretum.org
. Directions: http://www.landisarboretum.org/map.html