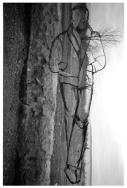 Art Exhibition:
The Hart Island Project December 6, 2011 through January 14, 2012
Peekskill Extension of Westchester Community College
Opening Reception:  Tuesday, December 6th 5:30-7:30 PM; Public talk at 6:30 PM
Press Preview: Friday December 2nd  2-4 PM
Peekskill, N.Y.
-
Artist Melinda Hunt's 20 year effort to visualize Hart Island, New York's 142 year old "Potter's Field" located in the Bronx, is the subject of
Shades of New York: An Exhibition of The Hart Island Project,
a series of ink sketches of people who died in and around New York City between 1980-2010 and were located through the Hart Island Project digital database. The exhibit will open December 6, 2011 and will run through January 14,
2012 at the Westchester Community College's Center for Digital Arts in Peekskill, NY. The opening reception is scheduled for 5:30 - 7:30PM on December 6
th
with a Public talk by artist Melinda Hunt at 6:30 PM. Free and open to the public. The Center for the Digital Arts is located at 27 N. Division St. Peekskill, NY 10566. For information contact Lise Prown 914-606-7304  
http://www.sunywcc.edu/peekskill
"I think it is a stark reminder to us of the inequalities in life and how those inequalities continue even after life and into the death experience," states Columbia University Historian Kenneth T. Jackson in Ms. Hunt's film
Hart Island: An American Cemetery
released in 2007. On the day of release, Melinda Hunt submitted a Freedom of Information request for records of over 50,000 burials from 1980-2007. These, and subsequent requests, generated an on-line database of burials through 2010 and completed in July 2011. "I agree with Professor Jackson's view: How the other half dies is indicative of how people live in present day America," states the artist and founder of
The Hart Island Project (
hartisland.net
), a
nonprofit organization which seeks to assist families gain  access to information, visit and make visible thousands of people who disappear into the City's public burial ground.  "Through the powerful ink representations, I hope to make an invisible 101 acres and one-tenth of the population visible."  In 1991, Melinda Hunt and Joel Sternfeld set out to re-photograph Jacob Riis's first photographs taken 100 years earlier at the public cemetery on Hart Island where mass burials in plain pine boxes remain an unchanged part of New York City.  Hunt gathered information about the process from the only witnesses to the daily burials -- prison guards and inmates from Riker's Island. Soon after their book,
Hart Island
was published in 1998, the island became closed to media and the public. People located in the database are the subject of
Shades of New York: An Exhibition of The Hart Island Project,
a new
series of landscape/portraits using ink applied to large (26" x40") digital fine art prints from 35 mm black and white negatives. Hunt created each ink sketch based on a snapshot provided by a family member in search of a child, husband, mother or other relative in hopes of locating their missing loved one through The Hart Island Project. Each sketch was painted onto enlarged fine art prints of Hart Island. The sketches represent just a few of over 58,000 of New York City's unclaimed, unknown and unfortunate people buried in mass graves over the past 30 years. The exhibition represents the first time images of those buried have been publically displayed. Hunt will speak at the December 6
th
opening at 6:30PM describing her two decade endeavor to visualize New York's Potter's Field and the recently founded nonprofit organization.
# # #
PHOTO
:  Jean-Jaques Maré, buried on Hart Island January 11, 2000. ©2011 Melinda Hunt/The Hart Island Project
Contact
: Melinda Hunt
The Hart Island Project
914-402-5992 E-mail:
hartisland@aol.com
Website:
http://hartisland.net/
Press Contact
: Cindy Beer-Fouhy 914 528 5535
cindyf@bestweb.net