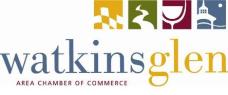 Small Business Saturday Shopping in Schuyler County
Watkins Glen, N.Y. - The Watkins Glen Area Chamber of Commerce is excited to announce that 36 businesses in and around Schuyler County will be participating in Shop Small BINGO on Small Business Saturday, November 30, 2013.  Stop by the participating businesses to play for your chance to win a fantastic one-of-a-kind grand prize gift basket. Each participating business will have its own distinct marker. When a shopper gets a bingo, yell BINGO and leave the card at any participating shop or come to the Chamber office at 214 N. Franklin St., Watkins Glen, NY, on Saturday for your chance at that grand prize gift basket. Children can play too for a chance at a grand prize children's stocking too big to hang by the chimney with care.  The Chamber office will have DJ Live Entertainment by A Walk on the Wildside Entertainment, live vocal performances by William Sitzmen, chair massages to soothe shoppers by Watkins Glen Massage, free wine tastings, children's storytelling and toy workshop crafts. Shop Small BINGO Cards can be received through the Schuyler County Hi-Lites, Watkins Review & Express distribution, the participating businesses, and of course the Chamber office. So let's play Shop Small BINGO!
Small Business Saturday is a day dedicated to supporting small businesses across the country. Founded by American Express in 2010, this day is celebrated every year on the Saturday after Thanksgiving.
When:
Saturday, November 30, 2013
Time:
Hours of Operation Vary
Where:
Participating Businesses Participating Businesses:
A Walk on the Wildeside Entertainment
Antique Revival
Atwater Estate Vineyards
Barnstormer Winery
Blue Pointe Grille
Colonial Pottery & Creamery
Famous Brands
FiberArts in the Glen
Four Dragons Martial Arts
Glen Montain Market & Bakery
Glenora Wine Cellars
Hazlitt 1852 Vineyards
Harvest Café
Hector Fudge
J.R. Dill Winery
JBK Bridal & Prom
Joyful Adornments Glass Studio
Lane's Yamaha
Nickel's Pit BBQ
O'Susannah's Quilts & Gifts
Rooster Fish Pub
SCT Computers
Shtayburne Farms
Stillman's Greenhouse
Sunset on Seneca Bed & Breakfast
Sunset View Creamery
Sweet Mother Nature
The Tasting Room by Atwater
The Villager Motel
The Wildflower Cafe
Veraisons Restaurant
Village Bakery
Village Memorabilia/Watkins Glen Promotions
Watkins Glen Area Chamber of Commerce
Watkins Glen Harbor Hotel
Watkins Glen Massage
For more information visit events.watkinsglenchamber.com or contact Drew Guild at
drew@watkinsglenchamber.com
or call (607) 535-4300. Drew Guild Tourism & Marketing Manager Watkins Glen Area Chamber of Commerce 214 North Franklin St. Watkins Glen, NY 14891 P 607.535.4300 C 607.731.8645 F 607.535.6243
drew@watkinsglenchamber.com
http://www.watkinsglenchamber.com/