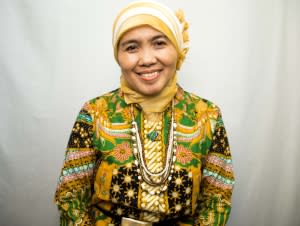 Seneca Falls, N.Y. –Women's Rights National Historical Park is proud to present "Show and Tell: Cross-cultural Dialogue through Islamic Fashion" on July 15th during Convention Days 2017. 
The event invites audiences to view the Islamic fashion show and participate in cross-cultural dialogues about diversity in Muslim women's garb. The collection aspires to honor suffragist colors: white, purple, gold, and green. The goal of the event is to bridge cultural differences and foster dialogue, collaboration, and friendship. 
Etin Anwar is Associate Professor and Chair of Religious Studies at Hobart and William Smith Colleges, Geneva, NY. She is a scholar who has written and edited a number of publications, book chapters, and articles. Her first book is entitled: Gender and Self in Islam (Routledge, 2006). She is currently working on a manuscript entitled Genealogy of Islamic Feminism: Patterns and Trends in Indonesia. She has also been featured in the WXXI TV documentary called Muslim Women in Our Midst: The Path to Understanding in conjunction with America at the Crossroads (2006). Her work on Islamic fashion can be seen at www.modish.xyz. She has previously shown her work at Hobart and William Smith Colleges and Skidmore Colleges. 
For more information about the park and upcoming programs, please visit the website www.nps.gov/wori or call (315)568-2991. 
Follow us on Facebook (@WomensRightsNPS), Twitter (#WomensRightsNPS) and Instagram (WomensRightsNPS) 
Join the Friends of Women's Rights National Historical Park at www.womensrightsfriends.org. If you would like to receive email announcements about other upcoming events, just send an email to wori_information_desk@nps.gov to subscribe.
###
Contact: Ashley Nottingham, 315-568-2991 ext. 5000