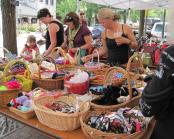 Ready. Set. Shop!
Skaneateles, N.Y.
- Skaneateles' Curbstone Festival and Sidewalk Sales return July 18-20 along Genesee, Jordan and Fennell streets. Hours are 9 a.m. to 8 p.m. Thursday and Friday and 9 a.m. to 5 p.m. Saturday. The event, featuring more than 30 merchants, is organized by the Skaneateles Area Chamber of Commerce.   Among the sales and specials sure to delight shoppers:  
Imagine will offer sales on gold and silver jewelry, art glass, pottery, wood art and fiber art.
Gallery 54 will feature sales on jewelry, paintings, ceramics, fiber art, sculpture, prints, cards, photography and wood art.
Fleur-de-lis Florist will offer a storewide 40 percent off sale, with certain exclusions.
Rhubarb Kitchen Shop will offer 50 percent off a wide array of kitchen gadgets, acrylic ware and cooking accessories.
Men's and women's clothing, shoes, handbags, home accessories, pet accessories and stationery goods will also be on sale.   Merchants new to the village who will participate for the first time are Gazella Dance Studio, whose students will perform on the lawn of the Skaneateles Library; Infused!, returning after a few years' absence; Lucky Goat Soap; and Maresella Galleries, which represents the artist whose painting is featured on this year's poster for the Antique and Classic Boat Show.   More interested in food and drink? Also participating for the first time are A Short Walk Market & Delicatessen, Gilda's and the LakeHouse Pub.    Returning for a second year is the Skaneateles Duck Dash, a fund-raiser that will be held from 5 to 7 p.m. Friday on Skaneateles Creek, behind the Fennell Street locations of Kinney Drugs and CVS. The carnival-like event will feature food, games and music.   Grand prize is $1,000 cash. A Skaneateles YMCA one-year family membership will be awarded for the second-place duck; a barbecue for 25, donated by Downtown Deli, for the third-place duck; Finger Lakes Scuba open water dive instruction and gear for the fourth-place duck; $250 for the fifth- and sixth-place ducks; two Mid-Lakes Navigation dinner cruises for the seventh-place duck; and $100 for the eighth-, ninth-, 10th- and last-place ducks.   Tickets are $5 each or three for $10, and are on sale at the Skaneateles Area Chamber of Commerce, Hairtique, the Skaneateles Historical Society and the Skaneateles YMCA & Community Center (or can be bought from the strolling duck). Mighty Duck Sponsor of the event is Doug's Fish Fry.   Proceeds will benefit Laker Limo, the Skaneateles YMCA & Community Center and the Skaneateles Area Chamber of Commerce Foundation.   Returning for their 15th year at the Curbstone Festival are The Jackman Twins, who will perform magic, juggling and balloon art from noon to 4 p.m. Thursday and Friday, and 11 a.m. to 2 p.m. Saturday.   "The balloons keep us the busiest, as we love to see the smiles on young and old alike as they try on their balloon hats," says Paul Jackman, who performs with his twin brother, David. "The teddy bears, penguins and flowers are popular too."   Musical entertainment will be provided throughout the weekend: Tom Barnes will perform from noon to 3 p.m. Thursday on the lawn of the Skaneateles Library; the Skaneateles Community Band, from 7:30 to 8:30 p.m. Friday at the Gazebo; and the Usual Suspects, from noon to 3 p.m. Saturday on the lawn of the Library.      "The Curbstone Festival is a longstanding tradition in the village and an experience not to be missed," says Susan Dove, executive director of the Skaneateles Area Chamber of Commerce. "It's so popular that people start asking about the date in January and plan their vacations around it.   "While the sidewalk sales are the draw, the Curbstone Festival is so much more," she says. "We have something for everyone-visitors can take a Mid-Lakes Navigation cruise, try the village's fine restaurants, and stay overnight at one of our historic inns, hotels, motels or B&Bs."   Parking is available at metered spots along the street or in the municipal lot (accessed through Genesee or State streets), where two-hour parking is free and all-day parking is $2. Free parking is also available at the old firehouse on Fennell Street and on various side streets.   For more information on the Curbstone Festival and to sign up for sales specials throughout the year, go to
http://www.skaneateles.com/
.  
###