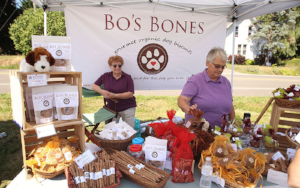 Putting down roots!
Finger Lakes, N.Y. -- The sixth annual Finger Lakes Cheese Festival is slated for Saturday July 22rd, 2017 from 10:00am-5:00pm at Sunset View Creamery in Odessa, NY, just east of Watkins Glen and south of Ithaca. Sunset View is a founding member of the Finger Lakes Cheese Alliance, which puts on this annual family-focused event. The Planning Committee is excited to announce many new additions to this year's festival.
The event features a full farm market featuring creameries of the Finger Lakes Cheese Alliance providing tastings along with many local food and farm vendors. Finger Lakes beer, wine and cider producers will be offering samples at the event, and the cheese and beverage pairing seminars have been expanded to 120 seats each to accommodate our growing event. This year the festival features a permanent pavilion to provide our guests covered seating for dining and enjoyment.
For the kids, there will be a petting zoo, the Tanglewood Birds of Prey exhibit and lots of games. For the whole family, there will be music all day, featuring Sons of a Beach, Bob & Dee and The Tarps. Guests can enjoy the guided milking parlor tour which will run hourly four times through the event. There will also be self-guided farm tours and hayrides for all to enjoy. Special thanks to The Watkins Glen/Montour Falls Lions Club, The Watkins Glen/Montour Falls Rotary, Odessa Boy Scouts, Schuyler County 4H, Schuyler Ambulance, The Spirit of Schuyler, and the Odessa and Van Etten Fire Departments for their generous assistance.
In addition to all the great activities, there will be plenty to eat, sample and buy. Food vendors to suit every palate will be at the festival, including Global Taco, OmNomNomlettes, Over The Moon Grilled Cheeserie, Macarollin', Riblicious BBQ and Central Hots. There will be wines from Hector Wine Company, Lakewood Vineyards, Stever Hill Vineyards, Hazlitt 1852 Vineyards, J.R. Dill Winery, and Wagner vineyards, local ciders from the Finger Lakes Cider House and Eve's Cidery, and beer from craft brewers Grist Iron Brewing Company, Lucky Hare Brewing, Climbing Bines Craft Ale, and Seneca Lodge. This year a number of wines, beers and ciders will be limited release or festival exclusives made just for our festival attendees!
Attendees can also enjoy the Pairing Seminars. These seminars will be led by local chef Brud Holland and will pair Alliance cheeses with wines, beers and ciders of the Associate Members of the Alliance. We have expanded these seminars to accommodate 120 attendees at only $2 each per seminar per person. Along with the food and drink, the Alliance has invited their neighbor artisans and farms to participate in the event, so there will also be farm produce and products, along with locally made products and wares, arts and crafts. "There will be something for everyone." explains Carmella Hoffman, owner of Sunset View Creamery and member of the festival's planning committee. "Think of it as a huge summer family bar-b-que and farmers market all wrapped up into one! It's farm fun for families and foodies."
Attendees are encouraged to bring a cooler in which to keep their purchases. A full schedule of events and vendors is available on the Cheese Festival website, www.flxcheese.com or on the Cheese Festival section of the Alliance's Facebook page. Updates, changes and new vendors will be announced on Facebook as well.
Media Contact:
Mark Costa
(607) 229-3911
About the Finger Lakes Cheese Festival
The Finger Lakes Cheese Festival is put on annually by the Finger Lakes Cheese Alliance. The concept
was born out of making it easy for people to try all the cheeses of the Alliance in one spot for attendees to
sample and enjoy. And the Festival simply exploded from there. This year, the Festival has several
generous sponsors to helping to make this 6th year of this family friendly event possible:
TITLE SPONSOR
Watkins Glen Area Chamber of Commerce
PLATINUM SPONSORS
New York Farm Bureau of Cayuga, Chemung, Schuyler, Seneca, Stuben & Tioga Counties
Visions Federal Credit Union
O'Hara Machinery
Culture Magazine
GOLD SPONSOR
Finger Lakes Tourism Alliance
SILVER SPONSORS
Elm Chevrolet
Simmons Rockwell
Flynn Energy
Sidle Insurance
Farm Credit East
Tioga Downs
Tablehopping Magazine
Ferrell Gas
BRONZE SPONSORS
Amerigas Watkins Glen
Cayuga Lake Wine Trail
Community Bank NA