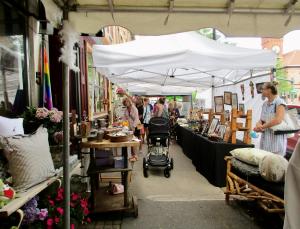 Curbstone Festival Has Surprises in Store—and on the Sidewalks
Ready, set, shop!
Skaneateles, N.Y. - Skaneateles' Curbstone Festival and Sidewalk Sales return July 20-22 along Genesee, Jordan and Fennell streets. Hours are 9 a.m. to 8 p.m. Thursday and Friday and 9 a.m. to 5 p.m. Saturday. "Curbstone is one of Skaneateles' iconic traditions," says Hilary Fenner, executive director of the Skaneateles Area Chamber of Commerce. "The streets come alive with unique offerings, while children are enchanted by balloon art and juggling. Everyone has the best time!"
More than 40 merchants will take part. Among the sales and specials sure to delight shoppers:
Bev & Co. will offer 50% off select Vera Bradley items and 20-60% off select dresses, tops and jeans.
Drooz + Co. will offer deep discounts on household goods, books, decor, gift items, puzzles and display pieces.
Emma + James and Hap + Main will offer an extra 30% off clearance items and 40% off select full-price items.
Fleur de lis Floral Design will offer specials on succulents, cacti and assorted small house plants.
Nest 58 will offer new industrial furniture and storewide discounts.
Pure Placid will offer 50% off seasonal candles, soaps and lotions and $20 racks of clothing.
Rhubarb Kitchen Shop will host guests from Ayvaco Extra Virgin Olive Oil, Clean Slate Farm, Finger Lakes Harvest and Tap Root Fields. Check the shop's Facebook or Instagram accounts for dates and times. Special sale items, too.
Sea Culture Brand will offer sale racks outside the store and 15% off merchandise inside the store (with some third-party exclusions). 
Skaneateles300 will feature deep discounts on shoes, accessories, denim, dresses and more.
The Local Branch will offer up to 50% off samples, seconds and more of their handmade leather bags/accessories, hand-printed apparel and home goods; 10% off full-price purchases over $100 inside the store; and a free gift each day with email signup.
The Savage Homestead will offer 50-75% off discontinued soy candles, bath and body products, and items for the home. Complimentary reusable fabric tote bag with every purchase, while supplies last.
The Wandering Kind will offer 20-60% off dresses, tops, shorts, jeans, jewelry and accessories. 
Joining the established shops along Genesee, Jordan and Fennell streets will be pop-up shops by 211 to Waterloo, Alaina Davis Photography, ALFA Gallery, Aura Sky Crystals, Balsam Rose Soap Co., Bree Kids, Clay + Confetti Co., CMI Candles, Cords & More Decor, Covet Thrift Emporium, Eleanor Rhinehart Studio, Forge Gone Conclusions, In Bloom Studio, Lake Life Laser Studio, Nikki's Photography, REVIVE Cryo and Wellness, SkanDrone, Stacianery, Sugarfoot Apparel, Tipico Roots, and Vintage Bling and Other Fabulous Things.
New to the festival this year are 211 to Waterloo, Aura Sky Crystals, Bree Kids, CMI Candles, Cords & More Decor, Genesee Daley, In Bloom Studio and Pure Placid.
Among the nonprofit organizations taking part are Baltimore Woods, Central New York Land Trust, Eastern Farm Workers Association, John D. Barrow Art Gallery, Skaneateles Historical Society and St. James' Thrift Shop.
Entertainment will be provided, too. The Jackman Twins, known for their magic, juggling and balloon art, will perform from noon to 4 p.m. Thursday, noon to 3 p.m. Friday and 10 a.m. to 4 p.m. Saturday. On Friday, the Skaneateles Community Band will perform at the Gazebo starting at 7:30 p.m. (Rain location is the Austin Park Pavilion, 1 E. Austin St.)
Sightseeing cruises will be offered each day by Mid-Lakes Navigation. For schedule updates, go to midlakesnav.com. Tickets can be ordered online, by calling 315-685-8500 or in person at 3 W. Genesee St.
Parking for the Curbstone Festival is available at metered spots along the street or in the municipal lot (accessed through Genesee or State streets), where parking is 75 cents an hour and all-day parking is $6. Free parking is available on various side streets and by the Austin Park Pavilion (across from St. Mary's Church on Jordan Street).
For more information, go to skaneateles.com or facebook.com/skaneateleschamber/ or call 315-685-0552.