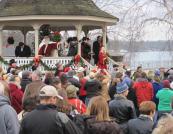 Skaneateles, N.Y. - No, you're not seeing triple.   When the World's Smallest Christmas Parade kicks off Nov. 29, opening the 20th anniversary season of Dickens Christmas, it will feature three renditions of Charles Dickens.   Jim Greene, who has played Dickens for more than a decade, will be joined by the production's first Dickens, Ted Davenport, grand marshal for the parade, and Kim Tenreiro, who will present a one-man dramatization of "A Christmas Carol" during the show's final weekend.   The parade starts at noon at the Skaneateles Village Hall on Fennell Street, proceeding east to Jordan and Genesee streets and arriving at the Sherwood House porch in time for the 12:10 p.m. grand opening.   Dickens Christmas attracts more than 20,000 visitors each year and is produced by Scarlett Rat Entertainment and presented by Mirbeau Inn & Spa and the Skaneateles-area business community.   It runs noon to 4 p.m. every Saturday and Sunday through Dec. 22, with a limited show (noon to 3 p.m.) Dec. 24.   In this Finger Lakes village, it is 1842, and Charles Dickens is gathering research for his soon-to-be-written classic, "A Christmas Carol." On village streets, he encounters Scrooge, Tiny Tim, the Ghosts of Christmas Past and Present, the Hon. DeWitt Clinton (retired governor of New York who championed the Erie Canal), President William Henry Harrison, and a bevy of other characters ranging from finishing school girls to pickpockets.   Magic, music and merriment prevail, as the revels play and guests ride by in horse-drawn carriages.   Highlights of the 20th anniversary season include:  
The Revels Live-Christmas carol sing-along-2 p.m. every day at theGazebo. Twelve groups form, each representing one of the 12 days of Christmas.The groups vie forattention, and at the end, Queen Victoria awards a silverteasel to the most spirited performer. Winners have been known to wear theircoveted silver teasels throughout theseason.
Scenes from "A Christmas Carol,"featuring guests from theaudience, performed at 12:30, 1:30 and 3:30 p.m. on the steps of the MasonicTemple.
One-man dramatization of "A Christmas Carol,"presented by KimTenreiro, of Canandaigua, 3:30 to 6 p.m. Dec. 21 at the United MethodistChurch. Suggested donationis $5.
Horse-drawn wagon and carriage ridesaround the village, departingfrom the Sherwood Inn.Wagon rides arefree; carriage rides are $20 per family.
Free refreshments, including roasted chestnuts, warm figgy pudding and Byrne Dairy eggnog.
For children of all ages, Mother Goose will read holiday stories and the Wonderful Wizard of the North will perform comedy magic shows.   Everyone is invited to borrow Victorian-era costumes from the Chamber of Commerce and join in the fun.   "Our village becomes a magical place during the holiday season," says Susan Dove, director of the Skaneateles Area Chamber of Commerce Foundation. "We invite Dickens fans from near and far to step back in time and join us for a slower-paced, more enjoyable atmosphere, where shopping can still be fun.   "We have more than 70 shops and restaurants, sure to please any palate and pocketbook," she says. "Why not make a weekend of it, and stay at one of our lovely bed-and-breakfasts, hotels or inns."   For more information on Dickens Christmas, go to http://www.skaneateles.com/, call (315) 685-0552, or follow the event on Facebook (Dickens Christmas in Skaneateles) or Twitter (@DickensXmas). 20 Reasons to Visit Skaneateles for Dickens Christmas   1) Where else can you see the World's Smallest Christmas Parade?   2) The chance to meet and greet a dead literary icon   3) Hot cider, cocoa and cookies at Mirbeau (and, on Saturdays, family photos taken by a professional photographer in front of Mirbeau's sleigh)-all for free!   4) Dickens Ale and commemorative glasses at the Sherwood Inn   5) Five golden rings (which can be purchased at Imagine, Skaneateles Jewelry, Grant Jewelers, S. J. Moore Jewelers or Skaneateles Artisans)   6) Warm figgy pudding at Mid-Lakes Navigation   7) Mid-day revels and caroling by the lake   8) Daily scenes from "A Christmas Carol"   9) One-man dramatization of "A Christmas Carol" (Dec. 21) by Kim Tenreiro, of Canandaigua   10) Period costumes at the Chamber that can be borrowed for free   11) Raffle drawings for gift certificates and gift baskets   12) Free horse-drawn wagon rides around the village, sponsored by the Old Stone Mill/Village Inn   13) Comedy magic shows by the Wonderful Wizard of the North   14) Fairy tales, told by Mother Goose   15) Visits with Father Christmas (for children of all ages)   16) Great shopping at dozens of unique boutiques. Free gift-wrapping at some; personalized service at all.   17) Dickens-themed soaps, lotions and lip balms at Lucky Goat Soap-one of several "hidden gems" along Fennell and Jordan streets   18) Book sale at the Skaneateles Library           19) 20th anniversary Dickens Christmas ornament, on sale at the Chamber, the Sherwood Inn gift shop and White Sleigh   20) Treasured family memories to last a lifetime
###