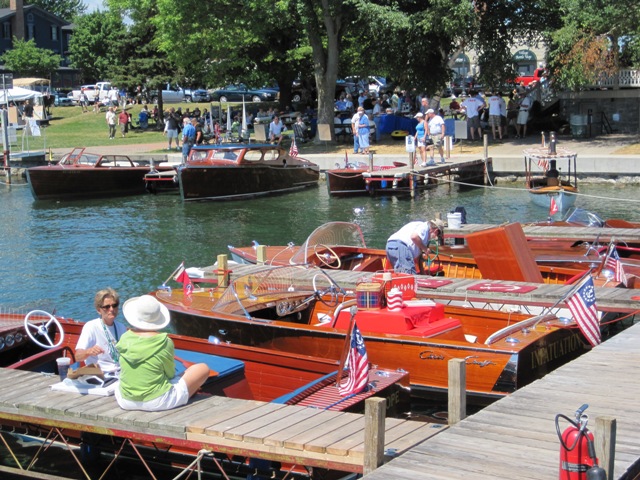 Skaneateles, N.Y. - This year's Antique and Classic Boat Show, held July 26-28 in Clift Park, will mark the 35th annual show for the Finger Lakes Chapter of the Antique and Classic Boat Society (FLC).   The show features more than 90 antique and classic boats-many restored to their original condition-and draws more than 10,000 visitors each year. But it wasn't always that way.   At the first show, held in 1978 at Treman State Marine Park in Ithaca, 13 boats were on display. "They were scattered at the ends of four finger piers. It was a quarter-mile hike to see them all," recalls FLC founding member and past president Bob Myllymaki. Just one boat hailed from out-of-state.   Today, exhibitors come not only from Central New York, but also from New Jersey, Ohio, Michigan, South Carolina and Canada. Displays range from mahogany runabouts manufactured by Chris-Craft, Hacker and Gar Wood in the early 1900s to launches, sailboats, canoes, rowing craft and race boats. From Treman State Marine Park, at the south end of Cayuga Lake, the show moved to the Cayuga-Seneca Canal in downtown Seneca Falls, the Ithaca Yacht Club and then Emerson Park, at the north end of Owasco Lake. It also made stops in Brewerton and at the Oswego Harbor before finding a permanent home in Skaneateles in 1995.   The show has stayed in Skaneateles, says Dick Sherwood, a director and past president of the chapter, because of "the excellence of the venue, where both in-the-water and land displays can be set up adjacent to each other; the strong support and organizational assistance provided by the Skaneateles Area Chamber of Commerce; the generous and sustained support of our sponsors; and the cultural fit with the community."   The show is organized by the FLC and the Skaneateles Area Chamber of Commerce Foundation (also known as the Skaneateles Foundation), and presented by M&T Bank.   "The show has become a tradition for exhibitors, families and visitors," says Susan Dove, executive director of the Skaneateles Foundation. "With children's activities, the boat parade, free concerts, historical tours-and the village's many fine boutiques, galleries and restaurants-there truly is something for everyone."      Judging of the boats, in 35 categories, takes place Saturday morning. Throughout the weekend, visitors to the show will cast their votes for the highly coveted People's Choice Award, sponsored by Doug's Fish Fry, which will be presented at 3 p.m. Sunday. Additional highlights include:
Performances by the 42nd Infantry Division Band, 4 p.m. Friday; the Skaneateles Community Band, 7:30 to 8:30 p.m. Friday; the Syracuse Brigadiers Alumni Drum & Bugle Corps, noon to 3 p.m. Saturday; and the Soda Ash Six, noon to 3 p.m. Sunday.
A display of antique model boats by the Syracuse Model Boat Club, 10 a.m. to 3 p.m. Saturday and Sunday.
A youth judging competition, sponsored by Hagerty Classic Marine Insurance to "spark kids' passion for wooden boats," 10 a.m. Saturday.
Opportunities for children to paint their own wooden boats, 11 a.m. to 3 p.m., Saturday.
Guided tours by the Skaneateles Historical Society, starting at 11 a.m. and 12:30 p.m. Saturday and Sunday. $10 per person, with proceeds benefiting the Historical Society. A 50/50 raffle will also be offered.
A boat parade and fly-by, starting at 3 p.m. Saturday.
A photo-shoot and spectator cruise aboard the Judge Ben Wiles, 10 a.m. Sunday. The Judge will leave from the Mid-Lakes Navigation dock in Clift Park and make a slow tour of the north end of Skaneateles Lake, while exhibiting boats make random passes and provide opportunities for action shots. Tickets are $10 for adults, $5 for children under 13 accompanied by an adult. Coffee and pastries will be available; no reservations are necessary.
Raffle drawings. First prize is a $750 gift certificate from Mirbeau Inn & Spa. Additional prizes are $250 cash, a $250 Mirbeau gift certificate, dinner for two aboard the Judge Ben Wiles, a toy wooden boat filled with lottery tickets, a $50 gift certificate from White and White Antiques & Interiors and a framed 2013 boat show poster. Tickets are $5 each, three for $10, 10 for $20.
This year's poster was developed from a painting by Jay Brooks, of Callicoon, N.Y., who shows at the Maresella Gallery in Skaneateles. Posters are $10 and are on sale at the Skaneateles Area Chamber of Commerce, 22 Jordan St., and at the show.   In anticipation of the show, a 1936 Thompson rowboat owned by Bill Miller and his family, of Skaneateles, is on display at M&T Bank in downtown Skaneateles. The Antique and Classic Boat Show is officially sponsored by M&T Bank. Contributing sponsors are Katz's Marina (of Lake Hopatcong, N.J.), Summit Auto, Mirbeau Inn & Spa, the Sherwood Inn, Doug's Fish Fry, Hagerty Classic Marine Insurance (of Traverse City, Mich.), The Sailboat Shop, Adams and Son Insurance, Bluewater Grill, Byrne Dairy/Subway, cate & sally, Bill and Bobbi Dean, Delmonico Insurance, Johnny Angel's Heavenly Burgers, Jordan Street Properties: Village Inn & Old Stone Mill, Mid-Lakes Navigation, Realty USA, Smiles of Skaneateles and Wirth's Automotive Services.   Media sponsors are Group M Communications, Scotsman Media Group, the Skaneateles Journal and WRVO Public Media.   Hours are 3 p.m. to dusk Friday, 9 a.m. to dusk Saturday and 8 a.m. to 3 p.m. Sunday. Admission is free. For more information, go to http://www.skaneateles.com/ or call the Skaneateles Area Chamber of Commerce at (315) 685-0552.  
###
Contact: Susan Dove Skaneateles Area Chamber of Commerce Foundation 315-685-0552 /wp-admin/sdove@skaneateles.com http://www.skaneateles.com/