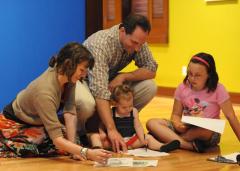 Spring Recess Fun!
Corning, N.Y.
- Are you looking for some free family fun? Check out "Sketching in the Galleries" at the Rockwell Museum of Western Art. Families are invited to join a local artist each day, April 4-8, from 10 a.m. - Noon to learn to sketch characters and animals from the West. Each participant will receive a free sketch book!  Each day, a new theme and gallery will be highlighted.  The artist, with an easel, note paper and markers, will demonstrate drawing techniques for all ages.  Sketchbooks, pencils and clipboards will be provided.  There is no pre-registration required and visitors can join in anytime during the class hours.  This program is being offered free of charge to all. Kids and Teens are always free, 19 & under.  The Museum is FREE on Sundays now through the end of April, 2011!  There is no additional fee for the following interactive activities:
Explore the West Activity Booklet
- Young buckaroos will explore the Museum through fun activities!  Participate in a hide and go seek game, learn about real cowboys, and draw a horse!
Art Hunts
- Young visitors match an artist's drawing to images found in the paintings and objects throughout the galleries! 
ArtPacks
- The ArtPack program offers backpacks filled with creative activities, puzzles, games and more! The ArtPack is a young trailblazer's guide to the Museum!
Currently on View now through Mid-October - Andy Warhol: Cowboys and Indians
In the 1980s, Warhol produced thematically-related images featuring "history's victims. He portrayed Western types: General Custer, Teddy Roosevelt, Geronimo, John Wayne, and Annie Oakley. In contrast, he represented Indians mostly through Native American art including an Indian mask, Hopi Kachina dolls, and a Plains Indian shield. An original portfolio of ten Andy Warhol lithographs on view at the Rockwell Museum of Western Art, now through mid October. Details online at
http://www.rockwellmuseum.org/
.
###
Contact:  Beth Manwaring ? 607.974.4254 ?
manwaringb@rockwellmuseum.org