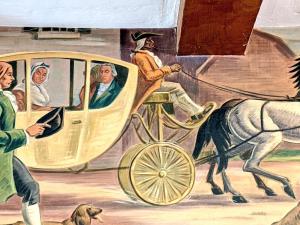 Free July Programs at Staatsburgh State Historic Site; July 4, 9 And 17, 1:00pm
Staatsburg, N.Y.  (6/23/22) – In recognition of Independence Day, Staatsburgh State Historic Site will be offering their program "Slavery, Segregation & Staatsburgh," exploring themes of race, freedom, and citizenship, based on recent research into Staatsburgh's history. Join Historic Interpreter Zachary Veith for a conversation about the long path from enslavement to freedom taken by Black men, women, and children within the context of the Staatsburgh estate, built by the son of a signer of the Declaration of Independence. In addition to this special program, the site will be open for mansion tours on July 4.
"Slavery, Segregation & Staatsburgh" will also be offered on July 9 and 17 at 1:00pm. The program is free, but reservations are required at www.bookeo.com/StaatsburghSHS. Mansion tours can also be reserved on the Bookeo site: admission is charged on arrival for tours. Visitors may also enjoy a stroll or picnic by the Hudson River, or a hike along the woodland trails in adjacent Mills and Norrie State Parks.
July 4th, 1827 marks the official end of slavery in New York. It was celebrated by generations of Black New Yorkers as Freedom Day. Yet, 25 years later, famed Black activist Frederick Douglass asked, "what to the slave is the Fourth of July?"
Staatsburgh's founder, Governor Morgan Lewis, son of a signer of the Declaration of Independence, enslaved people of African descent at Staatsburgh. Yet, when his great-granddaughter, Ruth Livingston Mills, lived at Staatsburgh at the turn of the 20th Century, the staff was exclusively white and of European descent. At the same time, a free Black community was able to grow and thrive in the surrounding hamlet.
Veith will show historic photographs and documents related to the paradoxes of American independence, including a letter from Staatsburgh's archives detailing the sale by Morgan Lewis, of Peter Williams into slavery, to John Jay. 
"Slavery, Segregation & Staatsburgh" and Staatsburgh's blog series, Enslaved & In Service, are presented within the larger New York State Office of Parks, Recreation, and Historic Preservation's "Our Whole History" initiative, which aims to explore indigenous, Black, LGBTQ+, and other stories still untold by historic sites throughout the state. "Our Whole History" seeks to bring a more balanced historic narrative to public awareness, enriching both our state's history and the stories we share throughout the OPRHP system. Through on-going research and new interpretations, OPRHP seeks to create a more inclusive environment, more reflective of our multicultural past, and welcoming to all.
Staatsburgh was the autumn home of Ruth Livingston Mills, a prominent figure in New York Society, and her husband, industrialist and philanthropist Ogden Mills. When the mansion was redesigned in 1895 by famous architect Stanford White, it was the lavish setting for parties for the elite of Gilded Age Society.
The lives of the servants whose labor made this opulent setting possible are highlighted through programs and exhibitions alongside the lives of the Mills family.
Staatsburgh State Historic Site and the Ogden Mills & Ruth Livingston Mills Memorial State Park are located on Old Post Road in Staatsburg, off Route 9 between Rhinebeck and Hyde Park. The historic site is one of 6 sites and 15 parks administered by the Taconic Region of New York State Office of Parks, Recreation and Historic Preservation. For more information, call 845-889-8851, or visit Staatsburgh's websites at Parks.NY.gov, Facebook, and Blogger. Staatsburgh's events are listed at Parks.NY.gov/Events. 
New York State Office of Parks, Recreation and Historic Preservation oversees more than 250 individual parks, historic sites, recreational trails, and boat launches, which were visited by a record 78.4 million people in 2021. A recent university study found that spending by State Parks and its visitors supports $5 billion in output and sales, 54,000 private-sector jobs and more than $2.8 billion in additional state GDP. For more information on any of these recreation areas, visit parks.ny.gov, connect on Facebook, or follow us on Twitter. The free New York State Parks Explorer mobile app is available for iOS and Android devices. To download, visit: Google Play Store, NY State Parks Explorer App or Apple Store, NY State Parks Explorer App.
###
Contact: Donald Fraser | Donald.Fraser@parks.ny.gov | (845) 889-8851 ext. 338