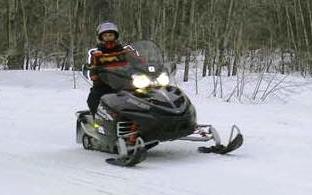 New Website Launched as a Resource for Snowmobilers
Oswego, N.Y.
-With more than 380 miles of scenic trails, snowmobiling is not only an extracurricular activity loved by many, it also draws thousands of visitors to Oswego County each winter.  In an effort to attract more visitors, the Oswego County Department of Community Development, Tourism and Planning has launched a new snowmobiling microsite that highlights businesses and services near the county's trail system. The site can be found at:
www.visitoswegocounty.com/snowmobile
. "Unfortunately, January's weather was not conducive to snowmobiling," said Dave Turner, director. "We're very hopeful, however, that the rest of the winter will bring enough snow for riders to enjoy the trails. Our goal in developing this site is to provide the 'visitor-on-the-go' with all of the information they need when they're either planning their trip or when they're actually out on the trails. The site gives us an opportunity to showcase everything that the county has to offer for riders." The microsite acts as a portal of information for riders who either live in Oswego County or are planning a snowmobiling trip to the area.  It features a downloadable trail map, a listing of accommodations, restaurants, gas stations and convenience stores along the trail system, trail head and parking information, and contact information for the ten clubs that are part of the Oswego County Snowmobile Association. "This is another new way to showcase the wonderful opportunities for outdoor recreation that we enjoy in Oswego County," said Oswego County Legislator Louella LeClair (Fulton), chairwoman of the Legislature's Economic Development and Planning Committee. "There are several lodgings, restaurants, repair shops and businesses along the snowmobile trail system and the microsite presents all of that information. It is a wonderful tool for our visitors." Other members of the Legislature's Economic Development and Planning Committee are vice chairman Morris Sorbello, Granby; Daniel Farfaglia, Fulton; Daniel LeClair, Palermo; Arthur Ospelt, Pennellville; Ronald Sakonyi, Constantia; and Amy Tresidder, Oswego. For more information on Oswego County's snowmobile amenities, check out the new website at
www.visitoswegocounty.com/snowmobile
. For trail conditions and winter events, call the Oswego County activity line at 1-800-248-4FUN (4386).
###
Contact
: David Turner, Director Comm. Development, Tourism & Planning  (315) 349-8292;
dturner@oswegocounty.com