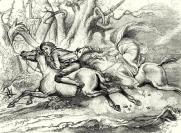 More than 5,000 hand-carved jack o' lanterns at Blaze; More than 40 ghoulish actors at Horseman's Hollow; One master storyteller at Irving's 'Legend'
Sleepy Hollow, N.Y.
- By popular demand, Historic Hudson Valley's roster of four major Halloween-themed events kick off on Saturday, Oct. 6. Continuing for 22 selected evenings through Nov. 11, The Great Jack O' Lantern Blaze® is the tri-state area's biggest all-ages Halloween extravaganza. A small team of artists come together to carve more than 5,000 jacks, many fused together in elaborate constructions such as life-size dinosaurs and eight-foot-tall working jack-o'lanterns-in-the-box, all lit up throughout the wooded walkways, orchards, and gardens of historic Van Cortlandt Manor in Croton-on-Hudson, N.Y. Washington Irving's macabre tale The Legend of Sleepy Hollow inspires Horseman's Hollow, an 11-night interactive haunted attraction at Philipsburg Manor recommended for ages 10 and up. Stocked with professional actors and state-of-the-art special effects, Horseman's Hollow has a high fear factor and is not for the faint of heart. Irving's 'Legend,' recommended for ages 10 and up, brings the master storyteller Jonathan Kruk into the historic, candlelit interior of Sleepy Hollow's circa-1685 Old Dutch Church, where for 12 evenings he offers a dramatic re-telling of The Legend of Sleepy Hollow accompanied by live organ music. Legend Celebration at Washington Irving's Sunnyside is a daytime prelude to these evening events. Storytellers and magicians are just some of the colorful characters that perform for all ages, and visitors are encouraged to come in costume. Blaze Founding Sponsor is Entergy. Blaze Title Sponsor is KeyBank. Media Sponsors are 100.7 WHUD/The Peak 107.1 and Journal News Media Group. All events are held rain or shine. Proceeds support Historic Hudson Valley, the Tarrytown-based private, non-profit educational organization which owns and operates the historic sites that host these events. Ticket and date information For Blaze, Horseman's Hollow, and Irving's 'Legend,' admissions are by advance purchase timed ticket. Blaze dates are Oct. 6-8, 12-14, 19-21, 25-31, Nov. 2-4, 9-11. The first reservation is 7 p.m. on Oct. 6-8 and 6:30 p.m. for the other dates. Tickets are $16 for adults ($20 on Saturdays), $12 for children 3-17 ($16 on Saturdays), and free for children under 3 and Historic Hudson Valley members. Horseman's Hollow dates are Oct. 6-7, 13-14, 19-21, and 25-28, with the first reservation at 7 p.m. Tickets are $20 ($25 on Saturdays). Historic Hudson Valley members receive a $5 per ticket discount. Irving's 'Legend' dates are Oct. 6-8, 12-14, 19-21, and 26-28. Seating is very limited, and there are three performances each evening on the hour (four on Saturday), beginning at either 5pm or 6:15pm, depending on the evening. Tickets are $16 for adults, $12 for children under 18. Historic Hudson Valley members receive a $5 per ticket discount. Legend Celebration dates are Oct. 6-8, 13-14, 20-21, and 27-28, from 10-4 p.m. Tickets are $14 for adults, $12 for seniors, $6 for children 3-17, and free for those under 3 and Historic Hudson Valley members. Buy tickets online at
http://www.hudsonvalley.org/
or by calling 914-366-6900 ($2 per ticket surcharge for phone orders). Details: The Great Jack O' Lantern Blaze The Great Jack O' Lantern Blaze, which drew more than 80,000 visitors last year, features more than 5,000 illuminated, individually hand-carved jack o'lanterns - including elaborate abstractions and huge multi-pumpkin constructions - professionally lit throughout the landscape of Van Cortlandt Manor in various conceptual arrangements. Perennial favorites such as the Undersea Aquarium and life-sized dinosaurs in Jurassic Park are joined this year by many new installations including: * Jack-O'Lanterns-in-the-Box - Eight-foot-tall, working jack-in-the-boxes made of jack o'lanterns. * Floating and flying Pumpkin Ghosts - Carved pumpkins that float above the path. * "Doomsday" Grandfather Clock - Some suggest the ancient Mayans predicted the world will end in 2012. The Blaze version of a "doomsday clock" is a malfunctioning, turn-of-the-19th-century grandfather clock. * Little Monsters - These comical carvings of classic Halloween icons like Dracula and Frankenstein have normal sized heads, but miniature two-foot-tall bodies. Also new this year is Blaze: The Soundtrack, all-original music and sound effects created by professional musician, radio personality, and Halloween fanatic Richard Christy. Music from the soundtrack will play throughout the event, and the soundtrack is available as a CD and also a digital download from iTunes, Amazon, Google Play, and more. Describing the event as an art installation, Creative Director Michael Natiello said, "Ultimately, Van Cortlandt Manor itself is the inspiration for Blaze. The jack o'lantern arrangements are meant to complement and draw attention to the site's architecture, Revolutionary-era history, and landscape." Natiello leads a small team of Historic Hudson Valley staff and local artists who carve the pumpkins. In addition, more than 1,000 volunteers help scoop and light the pumpkins. Blaze artists will be carving on site during the event. The Great Jack O' Lantern Blaze Shop offers a full bounty of Blaze-specific merchandise including hats, notepads, games, T-shirts, magnets, caps, mugs, and jewelry. Café Blazé, by Geordane's of Irvington, will offer culinary treats including soup, veggie chili, muffins, pumpkin cookies, and cider. A special "TrailBLAZEr FundRAISEr" will take place on Thursday, Oct. 18. Blaze fans can enjoy exclusive access to the event, a "curator's tour" with Natiello, and a full catered meal. Van Cortlandt Manor is at 525 South Riverside Avenue, just off Route 9 in Croton-on-Hudson. Details: Horseman's Hollow Horseman's Hollow, a haunted experience in the heart of Sleepy Hollow, takes the tale of
The Legend of Sleepy Hollow
to its darkest extremes. Historic Philipsburg Manor transforms into a terrifying landscape ruled by the undead, the evil, and the insane, all serving the Headless Horseman himself. Haunted house professional Lance Hallowell leads a crew of award-winning makeup and costume designers and a 40-member-strong cast of experienced actors to create an immersive, interactive, pleasantly terrifying experience, with state-of-the-spooky-art special effects. Custom built set pieces and period-correct costumes help orient the experience in Philipsburg Manor's traditional time period of the mid-1700s. Lighting is by Emmy award-winning designer Deke Hazirjian of New York City Lites. Philipsburg Manor is at 381 North Broadway (Route 9) in Sleepy Hollow. Details: Irving's 'Legend' Master storyteller Jonathan Kruk offers a dramatic re-telling of Washington Irving's classic tale, The Legend of Sleepy Hollow, featuring the Headless Horseman, Ichabod Crane, Brom Bones, and Katrina Van Tassel. Flavored with live spooky organ music by Jim Keyes, Kruk's storytelling will take place in the historic, candlelit setting of the Old Dutch Church in Sleepy Hollow. The 1685 stone church is across the street from Philipsburg Manor, where visitors will park. Performances last about 45 minutes.
Details: Legend Celebration
This daytime prelude to the area's evening activities features colorful characters who will delight all ages, including magicians, storytellers, puppeteers, live musicians, and a spooky mime. Children can take part in old-fashioned games and hands-on activities such as scarecrow making. Perennially popular with children, this event takes place at Sunnyside, the Romantic-era homestead of Washington Irving, who wrote The Legend of Sleepy Hollow. Sunnyside is at 89 West Sunnyside Lane, off Route 9 in Tarrytown.
###
Contact
: | Rob Schweitzer | | Director of Public Relations | Historic Hudson Valley  | 639 Bedford Road | Pocantico Hills, NY 10591 | Direct dial: 914.366.6950