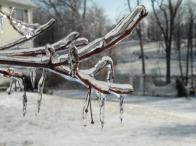 Cornwall, N.Y.
- On Saturday, January 9 at 10 a.m., come to the Hudson Highlands Nature Museum's Outdoor Discovery Center, entrance on Muser Drive, across from 174 Angola Road, Cornwall to learn the physics of ice and snow!
Participants will join Environmental Educator, Judy Onufer, to learn why snowflakes form and the properties of ice. Participants will observe ice freezing before their eyes! Crafts will include: making a "real replica" of a snow flake and a frozen treat to take home. This program is recommended for adults with or without children, and children ages 5 and older. Cost: $5 per person. Members: $3. For information call 845-534-5506, ext. 204. Visit the museum's website at
http://www.hhnaturemuseum.org/
.                                                                        ### Photo: Ice Crystals. Photo by Judy Onufer.
Contact:  
Marian Goldin, Marketing Associate Hudson Highlands Nature Museum 845-534-5506, ext. 215