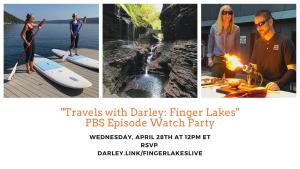 Corning, NY – In September 2017, Emmy-nominated travel personality Darley Newman and her Emmy-winning crew explored the Southern Finger Lakes region to get footage for the fifth season of  the popular PBS show Travels With Darley. The episode featuring the Southern Finger Lakes first aired locally on WSKG in April 2018 and was the show's first featuring a destination in New York State, placing the Southern Finger Lakes alongside such destinations as Tokyo, Hong Kong, Martinique and Great Britain.
Meaghan Frank of Dr. Konstantin Winery, Eric Goldschmidt from the Corning Museum of Glass, and Brett Brubaker from Seneca Lodge, all featured in the episode, will join Darley LIVE to share their insights into the area, as well as the experience of filming for the PBS series. Tourism expert Dave DeGolyer from Corning and the Southern Finger Lakes CVB will also be on hand to answer viewer questions and share new experiences and attractions available since Darley's visit and filming. 
"We'll be streaming the episode live on Facebook and YouTube to allow guests from around the world to enjoy adventures ranging from glass blowing to stand up paddle-boarding to soaring around the stunning Southern Finger Lakes," said Darley. "Viewers will get to hear directly from the local experts we enlisted to share their Finger Lakes stories, ask their questions live and also hear about some of the logistics involved in filming a PBS travel series." 
The episode highlights Elmira, Corning, Watkins Glen and Hammondsport, featuring the Corning Museum of Glass and downtown Corning, soaring at Harris Hill and the National Soaring Museum, the Center for Mark Twain Studies at Elmira College, Watkins Glen State Park, Seneca Lodge, Watkins Glen International, the International Motor Racing Research Center, Finger Lakes Boating Museum and Dr. Konstantin Frank Winery. The Travels with Darley team filmed in Corning and the Southern Finger Lakes in 2017 and the episode continues to re-broadcast on PBS stations across the nation and on Create TV, the PBS lifestyle channel.
"Here in the Finger Lakes, we all know how special this place is," says Meaghan Frank. "Darley has captured the magic of our region in this episode and we couldn't be happier that it exudes the essence of what it means to explore here."
Flameworking and Properties of Glass Supervisor at The Corning Museum of Glass, Eric Goldschmidt adds, "it's always a joy to be included in a show like Travels with Darley, especially when the Finger Lakes region as a whole is highlighted. In our segment of Darley's episode, I had the pleasure of highlighting the history of the Crystal City, and telling the story of the significance of glass to our region. It's powerful to pair that with the other rich histories here in the Finger Lakes, and together they make for many compelling reasons to visit."
As with Darley's previous LIVES, she uses her TV production experience to create engaging, informative and inspiring virtual events. Participants can choose to RSVP for the Facebook Event or watch the broadcast LIVE on YouTube. 
"Travels with Darley," along with Darley and her longtime director of photography Greg Barna, were recently nominated for a Daytime Emmy Award for their work on the long-running series, which has completed 45 half hours. Darley also recently partnered with a Virtuoso Travel Agency to book "Darley Vacations" based on her experiences filming around the world. A Finger Lakes Travel Itinerary that can be booked or customized through Darley's Preferred Provider of Travel Services, Cathy Moha, is featured alongside USA vacations in Santa Fe, Los Angeles, the Adirondacks and California's Central Coast.
###
About Darley Newman
Cited by Forbes for her "PBS media empire," Darley Newman is a travel expert, media entrepreneur, TV host and producer of the internationally broadcast travel shows, Travels with Darley and Equitrekking. Recently nominated for a Daytime Emmy Award for directing Travels with Darley, she's received five additional nominations for hosting, writing, and producing and three wins for Equitrekking. Popularizing the niche genre of equestrian tourism through Equitrekking and most recently swimming with sharks in Dubai, free diving in South Korea and taking on the world's highest commercial bungee in China, she is known for her out of the box adventure segments. Often appearing as a travel expert in leading media and a frequent speaker for Smithsonian Associates, her content can also be seen on Amazon Prime, Ovation TV's Journy, and international broadcast and streaming networks in over 85 nations.  
For more information, contact Mingsi Ma at communications@yolcc.com. 
Steuben County CVB Contact:
Dave DeGolyer
Communications Manager
Steuben County CVB
607-426-5371