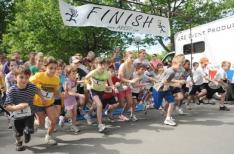 Live Music Along Course by Local Bands Including Filming Ohio, Branchwater and Orchard
One-Mile Kids' Race & Post-Race Party at SPAC  
Saratoga Springs, N.Y.
- On Sunday, May 22, Saratoga Performing Arts Center's Action Council will host a 5K "Rock & Run" through the Saratoga Spa State Park for families and runners of all ages and skill levels. WNYT Anchor Phil Bayly will emcee the event which will feature live music by local bands along the course, a post-race party with entertainment, refreshments and children's activities, and SPAC ticket giveaways for top finishers. The event kicks off at 10 a.m. at SPAC with the one-mile Kids' Race; the 5K begins at 10:30 a.m. Proceeds benefit SPAC's Vivienne Anderson Children's Program. Information and online registration are available at
http://www.spac.org/
.  "We are thrilled to be bringing back the '5K Rock & Run' as the first event of our 2011 Season. Last year, runners and families turned out en masse to participate in this fun, worthwhile event and to enjoy the beauty of spring in the Spa State Park. With some of our area's best musicians performing live music along the course, runners can leave their iPods at home for this workout," said Marcia J. White, SPAC's President and Executive Director. Performing at designated locations along the running course will be popular local bands including the Garland Nelson Ensemble and from last year's Battle of the Bands at SPAC, acoustic rock/jam band Filming Ohio, country band Branchwater and rock/alternative band Orchard. Also performing will be Tracy Corry and John DonVito. The event will be emceed by morning anchor Phil Bayly of NewsChannel 13. Bayly is an avid fitness enthusiast who races at the masters level in Alpine skiing and enjoys tennis and other recreational sports.     Features of the Rock & Run include:  
¨ performance/moisture-wicking shirts for the first 750 pre-registered 5K runners;
¨ tickets to SPAC's Wine & Food and Fall Ferrari Festival for the top male/female finishers;
¨ tickets to "Glee Night" at the New York City Ballet for the top three male and female finishers in each age category;
¨ finisher awards for all children participating in the Kids' Race;
¨ post race party with live music, refreshments and children's activities;
    Early registration cost for the 5K is $25 per person and $5 for the Kids' Race.  There is no cost for the general public to view the race or attend the post-race party.
Day-of registration:
Kids' Race -- 8:00 a.m. to 9:45 am, SPAC Amphitheatre, $7 per person 5K -- 8:30 a.m. to 10:15 am, SPAC Amphitheatre, $30 per person
###
Contact
: Shane Williams-Ness, 518.584.9330 x 116 M:518.378.0295
shane@spac.org
  Lisa Hill, 518.584.9330 x 119 M:518.496.2882 lhill@spac.org;
http://www.spac.org/