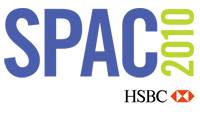 "SPAC Rock & Run" Features Entertainment, Performance T-Shirts and SPAC Tickets to Top Finishers
Saratoga Springs, N.Y.
- The first annual 5K SPAC Rock & Run sponsored by SPAC's Action Council, is set for Sunday, May 23 at the Saratoga Spa State Park in Saratoga Springs. The 5K walk/run, which kicks off on the 'apron' of SPAC's Amphitheatre, begins at 10:30 AM; a special, one-mile kid's race starts at 10:00 AM. Proceeds raised at the event will benefit Saratoga Performing Arts Center's Vivienne Anderson Children's Program, an initiative which hosts underprivileged children from around the Capital Region at performances of New York City Ballet. Among the unique features of SPAC's Rock & Run will be live entertainment at designated locations along the course by popular local bands and musicians including Rock Box, the Accents, Girls Nite Out, Emeralds of July and Garland Nelson.
The 5K certified scenic course will take participants through the grounds of Saratoga Performing Arts Center and the Saratoga Spa State Park. Pre-registered runners will receive a moisture-wicking performance t-shirt with the event logo as a gift for their participation. Tickets to SPAC classical performances will be awarded to top finishers in specific age categories; all children who participate will receive '"finisher" awards. A post-race party on SPAC's grounds will offer refreshments and entertainment for participants and spectators. The event will directly benefit the Vivienne Anderson Children's Program, which was established in 2005. The program hosts approximately 300 children each season at matinee performances of New York City Ballet at SPAC. Visiting children are treated to a performance, refreshments and a presentation by a New York City Ballet dancer who discusses a dancer's life and answers questions. The program is named after former Action Council President and education advocate Vivienne Anderson.  "We are very excited about the first-ever 'SPAC Rock & Run' fundraiser which will give families and SPAC supporters the opportunity to raise funds while enjoying the challenge of a 5K run and the beauty of the Saratoga Spa State Park," said Marcia J. White, SPAC's President and Executive Director. "One of the best aspects of the event is that children can participate with their parents and experience the sense of satisfaction that comes from contributing to a good cause." "I'd like to thank our Action Council members for the time and effort they've invested in this event and for their commitment to SPAC's Vivienne Anderson Children's Program, which provides disadvantaged children with the opportunity to experience the joy and enrichment of a world-class performance by New York City Ballet," said White. "One of our most important goals at SPAC is educating the next generation of artists and audiences; this program helps us achieve that."     Early registration cost for the 5K is $22 per person; cost for the Kid's Race is $4 per person. Registrations received or postmarked after May 15, will be $25 for adults; $5 for children. Application and on-line registration is available at
http://www.areep.com/
. There is no cost for the general public to view the race or attend the post-race party.
###