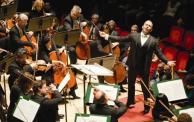 Stunning Season Showcases Artistic Breadth And Virtuosity
Saratoga Springs, N.Y.
 - Three weeks of dazzling repertoire, famed guest conductors, superstar soloists, a multimedia event and exciting pops programs will highlight Saratoga Performing Arts Center's 2012 residency by The Philadelphia Orchestra, Aug 1 - 18.  Highlights of the season include SPAC's welcome of Yannick Nézet-Séguin, the dynamic Music Director Designate of The Philadelphia Orchestra; performances by classical superstars including Lang Lang and Yo-Yo Ma; appearances by renowned guest conductors including Saratoga debuts by David Robertson and Gianandrea Noseda; and the multimedia movie screening of the beloved film classic
The Wizard of Oz
. "Today's classical music landscape is phenomenally rich with artists of tremendous talent, vision and leadership taking the art form in bold new directions. These gifted musicians are filling concert halls around the globe with their artistic brilliance, forging new connections with audiences and weaving innovation into their programming and presentation," said Marcia J. White, SPAC's President & Executive Director. "Among those at the forefront of this new era is Yannick Nézet-Séguin, The Philadelphia Orchestra's impressive Music Director Designate, who we will proudly welcome to our stage in 2012. One of the most sought-after conductors in the world, Yannick is a masterful maestro renowned for his astonishing  artistry as well as for his magnetic presence  which inspires both musicians and audiences," she continued. "Megastar pianist Lang Lang will return to our stage for the first time in nearly a decade. Today, Lang Lang is a worldwide phenomenon, selling out concerts across the globe, and lauded as a hero to millions in his native China where his success has created an overwhelming interest in classical music, particularly among China's youth," said White. "His popularity is a resounding affirmation of the power of the arts to inspire." Virtuosity will remain center stage as a starry cast of soloists join us including Yo-Yo Ma, Joshua Bell, Garrick Ohlsson, Jean-Yves Thibaudet, Arabella Steinbacher as well as Johannes Moser who marks his debuts at SPAC and with The Philadelphia Orchestra." "Making premiere guest conducting appearances at SPAC in the 2012 Season will be Gianandrea Noseda, Music Director of Italy's Teatro Regio and noted American conductor David Robertson who are part of a venerable lineup of guest conductors that includes Spain's celebrated maestro Rafael Frubeck de Burgos,  the charismatic Stéphane Denève, New York Pops sensation Steven Reineke, Philadelphia Orchestra Assistant Conductor Cristian Macelaru and Constantine Kitsopoulos, Music Director of the Queens Symphony Orchestra," said White. "We'll bring the magic of the movies to the Orchestra stage in 'Oz with Orchestra,' an evening featuring a full-length screening of the beloved classic film,
The Wizard of Oz
, as the Orchestra performs the score live.  Children and adults alike will be transported by this production, which is an opportunity to experience this Oscar-winning film like never before," continued White. "New York Pops Conductor Steven Reineke has quickly become a fan favorite here at SPAC. He returns this season with two New York headliners: Montego Glover, star of the hit Broadway show
Memphis
and Tony DeSare, the multi-talented singer-pianist whose style is in the mold of new wave crooners like Harry Connick, Jr. and Michael Buble.  Together with the Fabulous Philadelphians, these stars will pay tribute to Frank Sinatra and other great crooners of the past and present." "This extraordinary season will conclude with an equally extraordinary finale as our
Tchaikovsky Spectacular
brings together on one stage, artists from each of our world-class companies. On this special evening, New York City Ballet dancers Tiler Peck and Chase Finlay will join the musicians of The Philadelphia Orchestra to perform excerpts from Tchaikovsky's
Swan Lake
and
Nutcracker.
  It will be a stunning finale to our 2012 classical program," said White.
Welcoming Yannick Nézet-Séguin
SPAC  is proud to welcome
YANNICK NÉZET-SÉGUIN
, The Philadelphia Orchestra's dynamic Music Director Designate, for three exciting evenings. One of the most sought-after conductors on the international classical music scene, Nézet-Séguin has been widely praised by audiences, critics and artists alike for his musicianship, dedication and charisma. A native of Montreal, Nézet-Séguin made his Philadelphia Orchestra debut in 2008 and in June of 2010 was named the Orchestra's next music director, a post he takes up with the 2012-13 season.
The Philadelphia Inquirer
proclaimed his appointment as the Orchestra's next music director as "the No. 1 classical music event of the year." He is also the Music Director of the Rotterdam Philharmonic, principal guest conductor of the London Philharmonic and artistic director and principal conductor of Montreal's Orchestre Métropolitan. Yannick Nézet-Séguin leads three powerful evenings of brilliant repertoire:
Wed, AUG 8
-For his inaugural SPAC performance, Nézet-Séguin conducts superstar pianist Lang Lang in a performance of Liszt's Piano Concerto No. 1, as well as two works by Brahms, the vibrant Hungarian Dances
and the
Symphony No. 4
, the composer's final symphonic masterpiece.
Thurs, AUG 9
- Drawing on his wide experience conducting at the finest opera houses in the world, Nézet-Séguin presents
Italian Opera Night
, featuring classic arias and overtures by Verdi, Puccini, Rossini, Leoncavallo and Mascagni with accompaniment by two stellar operatic vocalists.
Fri,  AUG 10
 -  This evening will feature SPAC's first performance of contemporary composer
Jennifer Higdon's Concerto for Orchestra
, one of the most popular works written in the 21
st
-century, a performance by soloist Arabella Steinbacher of Prokofiev's demanding
Violin Concerto No. 1
and
Tchaikovsky's
masterful
Symphony No. 2
("Little Russian"), a work that has not been performed at SPAC in more than two decades. G
uest Conductors
A stellar array of the world's most celebrated guest conductors will take the podium at SPAC during the 2012 Season including esteemed American conductor
DAVID ROBERTSON
(Aug 16), Music Director of the Saint Louis Symphony. Hailed by the international press as a brilliant artist and master programmer, he is considered one of today's most important conductors.  Mr. Robertson, who marks his first SPAC performance, will lead cellist Yo-Yo Ma and the Orchestra in a program highlighted by Saint-Saëns's virtuosic
Cello Concerto No. 1
. Also making his SPAC debut will be
GIANANDREA NOSEDA
(Aug 4), who currently holds posts with Italy's Teatro Regio, the Israel Philharmonic Orchestra, the Pittsburgh Symphony and a laureate role with the BBC Philharmonic. Noseda, who has been called "a magician of the podium," received wide critical praise last fall for an extraordinary performance of Britten's
War Requiem
with the London Symphony Orchestra that earned him a spot on the Top Ten lists of the "Best Classical Performances of the Year" by  the
New York Times
and
New Yorker
.  Noseda conducts  The Philadelphia Orchestra and cellist Johannes Moser in a program that includes two monumental works,
Dvorák's Cello Concerto
and
Rimsky-Korsakov's Sheherazade.
Returning to the SPAC podium for the first time since 2006 will be celebrated Spanish maestro,
RAFAEL FRÜHBECK DE BURGOS
(Aug 15).
Named
Musical America's
2011 "Conductor of the Year," Maestro Frühbeck regularly conducts North America's top orchestras.   He leads a program featuring He leads  violinist Joshua Bell and the Orchestra in Brahms's demanding
Violin Concerto,
widely regarded as one of the greatest
concertos in the concert repertoire, and Beethoven's majestic
Symphony No. 5
. French conductor,
STÉPHANE DENÈVE,
 Music Director of the Stuttgart Radio Symphony Orchestra, returns to SPAC for three Opening Week performances (Aug 1 - 3).
Denève, a brilliant conductor with a rising international profile, continues to earn glowing reviews including a recent
Chicago Tribune
piece that stated, "conductors of this quality don't come along very often, and when they do, attention must be paid..." Denève leads three varied programs, including an Opening Night performance of Rachmaninoff's formidable 
Symphony No. 2
last performed at SPAC in 1992; a program of works by Bernstein, Ravel and Gershwin;
and an evening with Cirque de la Symphonie.
CRISTIAN MACELARU,
named  Philadelphia Orchestra Assistant Conductor in September 2011, marks his Saratoga debut in a unique season finale
Tchaikovsky  Spectacular
program featuring  a collaboration with New York City Ballet dancers.  The Romanian-born conductor who is also a violinist composer, enjoys wide acclaim for his artistry as well as his passionate efforts on behalf of music education. Conducting protégé of the late celebrated pops conductor Erich Kunzel,
STEVEN REINEKE,
Music Director of the New York Pops, leads a pops program entitled,
The Best Is Yet To Come: Sinatra & Beyond
starring Montego Glover, current star of the hit Broadway show
Memphis
and acclaimed singer-songwriter Tony DeSare in a musical journey of Golden Era  hits by Frank Sinatra and other great crooners, past and present. 
CONSTANTINE KITSOPOULOS
returns to SPAC this season to lead the multimedia presentation of
The Wizard of Oz
. Music Director of the Queens Symphony Orchestra, Kitsopoulos is a celebrated guest conductor for opera, symphony, and musical theater performances around the globe. He also serves as the general director of the Chatham Opera, which he founded in 2005.
Guest Artists
Sharing the stage with The Philadelphia Orchestra during its Saratoga Season will be an extraordinary lineup of world-class artists beginning with
GARRICK OHLSSON
(Aug 1) on Opening Night who will perform
Tchaikovsky's Piano Concerto No. 1
, a masterpiece that demands extreme virtuosity of both the orchestra and the soloist. Regarded as one of the top pianists in the world, Ohlsson is the leading exponent of the music of Frédéric Chopin, and a masterful artist who commands an enormous repertoire spanning the entire piano literature. Making his first SPAC appearance in nearly ten years is megastar Chinese pianist
LANG LANG
(Aug. 8). The artist joins Conductor Yannick Nézet-Séguin and the Orchestra to perform
Franz Liszt's
Piano Concerto No. 1
. Lang Lang, who has played sold out recitals and concerts in every major city in the world, is viewed as a symbol of the youth and future in his native China where he has inspired over 40 million Chinese children to learn to play classical piano. Lang Lang's newest recording
Liszt - My Piano Hero
, pays tribute to the legendary composer.   Award-winning cellist and icon of the music world,
YO-YO MA
(Aug 16), brings his stunning musical gifts to the Orchestra stage in a performance of
Saint-Saëns
Cello Concerto No. 1
, the Romantic era composer's brilliant tour de force.  Arguably the world's greatest living cellist, Yo-Yo Ma is a champion of musical innovation and cross cultural exchange, which he has pursued through initiatives such as the Silk Road Project and countless cross-genre collaborations, including his latest, the
Goat Rodeo Sessions
with Stuart Duncan, Edgar Meyer and Chris Thile   German-Canadian cellist
JOHANNES MOSER
(Aug 4), makes his SPAC and Philadelphia Orchestra debuts performing
Dvorák's Cello Concerto. 
Hailed by
Gramophone
as "one of the finest among the astonishing gallery of young virtuoso cellists," Moser's reputation for exquisite performances of lesser-known repertoire and an affinity for new music have given him the opportunity to perform world premieres of several works for the cello and electric cello. Internationally acclaimed violinist
JOSHUA BELL
(Aug 15) is regularly praised for the breathtaking virtuosity he brings to stages across the world.  The multifaceted artist, who first came to national attention at the age of 14 in a debut with Riccardo Muti and The Philadelphia Orchestra, was recently named Music Director of the Academy of St. Martin in the Fields. For his SPAC program, he'll perform
Brahms's
Violin Concerto
, one of the pillars of the concerto repertoire. Hailed as "one of the best pianists in the world,"
JEAN-YVES THIBAUDET
(Aug 2) brings his artistry, poetic musicality and dazzling technical prowess to Ravel's jazzy
Piano Concerto
in G major
. Sought after as a soloist by today's foremost orchestras, festivals and conductors, Thibaudet is also in demand as a soloist for the musical scores of major motion pictures. His most recent film score work was for the drama
Extremely Loud & Incredibly Close.
German-Japanese violinist
ARABELLA STEINBACHER
(Aug 10) has received numerous recording honors including the ECHO-Klassik Award, two German Record Critics Awards and the Editors Choice Award from
Gramophone
magazine.  The young virtuoso, who made her SPAC debut in 2009, returns to SPAC's stage for a performance of
Prokofiev's Violin Concerto No. 1.
Special Programs and Pops
Oz with Orchestra; Multimedia Event
Sat, AUG 11
One of the most beloved films of all time,
The Wizard of Oz
, comes to the Orchestra stage for a special multimedia evening. This timeless classic film will be shown in its entirety, with full dialogue, on SPAC's cinema screens as the Orchestra performs Harold Arlen's brilliant score live.  Producer John Goberman, Emmy-Award winning producer of
Live from Lincoln Center
, brings this special multimedia event to SPAC, offering children and adults alike the opportunity to experience this Oscar-winning film as never before.
The Best Is Yet To Come: Sinatra & Beyond featuring Montego Glover and Tony DeSare
Fri, AUG 17
Montego Glover, star of the hit Broadway show
Memphis,
and critically acclaimed singer, pianist and songwriter Tony DeSare join Conductor Steven Reineke for an Aug 17 pops program entitled, "
The Best is Yet to Come: Sinatra & Beyond."
Glover, who earned a Tony nomination and Drama Desk award for her starring role in
Memphis
, and DeSare, a dynamic performer who has captivated audiences at prestigious venues including Carnegie Hall, Jazz at Lincoln Center and the Algonquin's Oak Room, will sing Golden Era hits made famous by Frank Sinatra, Tony Bennett, Sammy Davis Jr., Nat King Cole and other iconic singers, past and present. Song selections include
The Best is Yet to Come
,
New York, New York
,
The Lady is a Tramp
,
Fly Me to
the Moon
, and more.
Cirque de la Symphonie
Fri, AUG 3
Back by popular demand,
Cirque de la Symphonie
returns to SPAC for an Aug 3 program of cirque artistry performed to classical music masterpieces. Currently one of the most popular productions at concert halls across the US, Cirque de la Symphonie features world-record holders, gold medal winners and former Olympians performing acrobatics, aerial feats and astonishing displays of strength. This year's program will feature new music and choreography including a concert violinist simultaneously performing aerial feats.
Tchaikovsky Spectacular featuring
New York City Ballet principal dancer Tiler Peck & soloist Chase Finlay
Sat, AUG 18
SPAC puts a dazzling twist on tradition by adding New York City Ballet dancers to its ever-popular
Tchaikovsky Spectacular
program by The Philadelphia Orchestra. New York City Ballet principal dancer
Tiler Peck
and soloist
Chase Finlay
will perform the pas de deux from two beloved Tchaikovsky works:
Swan Lake
and
The Nutcracker.
The dancers will perform on a specially erected dance floor in front of the amphitheatre stage. The last time an Orchestra program at SPAC featured New York City Ballet dancers was 25 years ago. Tschaikovsky was one of the 19th century's greatest musical talents and a master of ballet music. He  composed three scores specifically for ballet:
The Nutcracker,
Swan Lake
and
The Sleeping Beauty
. However, many choreographers, particularly George Balanchine, used works by the composer as ballet scores. New York City Ballet has a repertory of ballets to the music of Tchaikovsky that is unmatched by any other company in the world.
THE PRE-SHOW
6-8 PM, when the gates open
Among the most popular features of the SPAC experience is "The Pre-Show" that takes place before most evenings of the New York City Ballet and The Philadelphia Orchestra. Orchestra Pre-shows include:
CDPHP "Family Night" every Friday - Children and families can enjoy free Stewart's ice cream, strolling magicians, face painting and more before Friday evening performances.
The Sage Colleges "Date Night" every Thursday - Wine tastings, entertainment and other pre-performance attractions.
Children's Workshops on the Lawn, every Friday at 7 p.m.- These fun, educational programs presented by Orchestra musicians are designed to introduce children to the joys of music and foster greater understanding of the works they will hear on stage. Workshops take place on the apron in front of the Amphitheatre.
Celebration of an Artist, AUG 15 -- SPAC celebrates the arts by inviting professional and amateur visual artists to demonstrate their artistic skills on SPAC's lawn beginning at 6 p.m. Participating artists who arrive with an easel and stool will receive free lawn admission for themselves and a guest for the Orchestra performance.
Tchaikovsky Spectacular, AUG 18 -- Approximately 60 colonial re-enactors create "living history" military encampments on SPAC's lawn. The re-enactors, who fire live cannons at the conclusion of the Orchestra's performance of Tchaikovsky's 1812 Overture, dress in period costume and offer demonstrations and discussion on life during the French & Indian and Revolutionary Wars.
The Pre-Show is free and open to all ticketholders for the evening's ballet or orchestra performance.  More information on these events is available at spac.org Ticket prices for SPAC's Orchestra performances start at $22 for lawn seats; inside seating ranges from $32 to $75.  The GE Kids in Free program entitles children 12 and under to free lawn admission for Orchestra performances. The Student Discount program allows students of all ages to purchase lawn admission for $10 or inside seating at a 25 percent discount. Tickets to SPAC's classical season go on sale
online
for SPAC members beginning Mon, Feb 13 and for the public on Mon, March 12 at
spac.org
. SPAC memberships begin at just $75 and are available at SPAC's website.
Sponsors
Albany Medical Center, Amtrak, BST Advisory Network, CDPHP, Citizens Bank, CSEA, DePaula Chevrolet, The Desmond, Emma Willard School, Fenimore Asset Management & FAM Funds, Freihofer's, Gideon Putnam Resort and Spa, Grana Padano, Italian Trade Commission, Key Private Bank,  Mionetto, M&T Bank, Nigro Companies,  PEF MBP, NASDAQ/PHLX, Price Chopper, The Sage Colleges, Saratoga Eagle, The Saratoga Hilton, Saratoga Hospital, Siena College, Skidmore College, SUNY Adirondack, Stuyvesant Plaza, Times Union, Tri-City Rentals, Trustco Bank, Union College, WAMC, WMHT, The Bender Family Foundation, the New York State Council on the Arts (NYSCA), The H. Schaffer Foundation, The Philly Dake Foundation.
About Saratoga Performing Arts Center
Located in scenic Saratoga Springs, New York, Saratoga Performing Arts Center (SPAC) enjoys a reputation as one of America's most prestigious summer festivals. The stunning 2,400-acre Spa State Park is the backdrop for the world-class programming of SPAC's resident companies, New York City Ballet and The Philadelphia Orchestra. SPAC also presents the Freihofer's Saratoga Jazz Festival, Modern Dance, the Saratoga Chamber Music Festival, Live from the Algonquin at SPAC cabaret series and Live Nation rock and pop concerts. Detailed information on all SPAC programs is available at
spac.org
.