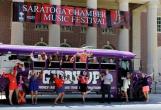 August 4, 11, 18 
Acclaimed Chamber Music Series Sponsored by WAMC and WMHT Opens This Sunday, August 4 
Saratoga Springs, N.Y.
- With SPAC's highly acclaimed Saratoga Chamber Music Festival sponsored by WAMC and WMHT set to kick off on Sunday, August 4, SPAC has announced it is partnering with Albany-based Giddy Up!  bus services to provide people with a convenient new option for transportation to the festival's Sunday afternoon performances at the Spa Little Theatre.  Each Sunday from August 4th to the 18
th
, people will be able to access bus transportation to the Spa Little Theatre from Giddy Up!'s regular pick-up locations in Albany and Clifton Park .  Bus tickets start at $10; tickets and information are available at
giddyupbus.com
"Enjoying an afternoon of world-class chamber music at SPAC just got easier for those who prefer to leave the driving to someone else," said Marcia J. White, SPAC's President and Executive Director.  "The  addition of the Spa Little Theatre to the Sunday afternoon route of the Giddy Up! bus will mean more convenience, more value and more enjoyment for many chamber music fans in Albany and Clifton Park.  We are glad to partner with Giddy Up! to offer music lovers this great new option." "The Giddy Up is thrilled to be helping connect people to the Saratoga Chamber Music Festival at SPAC. We truly hope people take advantage of this affordable ride to such an exceptional music series and are honored to be a part of it!" said Giddy Up! founder and owner Traci Cornwell.     Giddy Up! bus service runs regularly Friday - Sunday; pick-up/drop-off locations include:
o The Holiday Inn Express, Albany (Downtown);
o The Albany Marriott Hotel, Albany (Wolf Road);
o Fire Road Park and Ride, Clifton Park;
o The Saratoga Visitors Center, Saratoga Springs;
o The Saratoga Race Course, Saratoga Springs;
o The Saratoga Casino & Raceway, Saratoga Springs;
o The Horseshoe Inn. Bar & Grill, Saratoga Springs
o New! Spa Little Theatre, Saratoga Spa State Park (Sunday's only)
Tickets to the Saratoga Chamber Music Festival start at $40 and are available at spac.org, by calling 518-584-9330 and at the Box Office.
###
Photo caption:   The Giddy Up! bus receiving a warm welcome from the staff of Saratoga Performing Arts Center at the Spa Little Theatre last week. 
###
Saratoga Chamber Music Festival
August 4 - 20
Music Director: André-Michel Schub
The Escher Quartet (Sun, Aug 4; 2:15 p.m.) | Hailed by the Washington Post "as one of the top young quartets" in the world today, the Escher Quartet opens the 2013 Season of the Saratoga Chamber Music Festival with an exquisite of program that includes Britten's rarely performed, but masterful String Quartet No. 3.
Gil Shaham & Friends (Tues, Aug 6; 8 p.m.) | Virtuoso Gil Shaham, one of the foremost violinists of our time, headlines a program that also features his renowned wife, celebrated violinist Adele Anthony and world-renowned clarinetist Ricardo Morales. The three artists lead a program that will feature the autumnal and nostalgic Brahms Clarinet Quintet in B minor Op. 115, considered by many to be the composer's finest chamber work.
"Night in Day" featuring David Kim (Sun, Aug 11; 2:15 p.m.)| World-renowned violinist David Kim, concertmaster for The Philadelphia Orchestra, leads a program featuring favorite works from Stravinsky, Mozart and Brahms including Mozart's most famous work, the ebullient serenade Eine kleine Nachtmusik, better known as "A Little Night Music."
"Four Hands" with Davyd Booth & The Wister Quartet (Tues, Aug 13; 8 p.m.)| The versatile Davyd Booth, a longtime member of The Philadelphia Orchestra, displays his multi-faceted skills on both violin and piano in a unique program featuring The Wister Quartet, a celebrated chamber ensemble of which he is a member. Booth also performs on the piano with award-winning pianist and Chamber Music Director André-Michel Schub for a rare performance of Schubert's Fantasia in F minor for piano four-hands, the composer's last and greatest contribution to the four-hand repertory.
"An Afternoon to Remember" (Sun, Aug 18; 2:15 p.m.) | Four of America's most dynamic young chamber musicians come together for an afternoon of sublime musicmaking. Alexei Kenney (violin), Molly Carr (viola), Andrew Janns (cello) and Dominic Cheli (piano) perform works including Beethoven's String Trio Op. 9 No. 2. and Danielpour's A Child's Reliquary.
Beethoven and Beyond
(Tues, Aug 20; 8 p.m.) | Violinist and Philadelphia Orchestra Associate Concertmaster
Juliette Kang
performs with her husband acclaimed cellist and composer
Thomas Kraines
in a rich program that includes Beethoven's fiery Violin Sonata in A Major Op. 47 "Kreutzer."