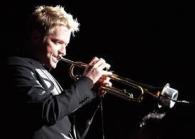 Jazz Superstar CHRIS BOTTI to Headline 35th Freihofer's Saratoga Jazz Festival
Cabaret Tribute to PEGGY LEE and YANNI Live in Concert Also Announced
Saratoga Springs, N.Y.
- Saratoga Performing Arts Center kicked off its interactive "Building of a Season" digital announcement series today with the news that Grammy-winning trumpet sensation
CHRIS BOTTI
will headline the 35
th
Anniversary celebration of the Freihofer's Saratoga Jazz Festival, June 30 - July1.  Botti, one of the world's top-selling instrumentalists, is known for his virtuosic performances and high-profile collaborations with many of music's biggest names, including Sting, Andrea Bocelli, Yo-Yo Ma, Joshua Bell and Aerosmith's Steven Tyler. The news was made public today at
spac.org
, as well as on SPAC's Facebook and Twitter pages, and accompanied by videos, photos, articles and reviews to offer online viewers greater opportunities to interact and learn about SPAC's artists, a goal at the center of the new announcement process. "Making the arts more accessible and interactive has been one of our most important goals in recent years. 'Building a Season' takes us further in that direction by giving the public a 'virtual' front row seat to our programming process and by offering several multi-media tools for learning more about our artists and programs," said Marcia J. White, SPAC's President and Executive Director. "We are excited about trying this fresh approach to the announcement process, which we believe is a 'first' for an arts center." "Chris Botti has won millions of fans across the world with his extraordinary virtuosity, unforgettable concert experiences and a versatile style that crosses the genres of jazz, pop, classical and rock. Exciting collaborations with a cast of stars ranging from Sting to Yo-Yo Ma are part of his trademark and have cemented his reputation as an innovator who is passionate about exploring new directions in his music," said White. "The best preview of Chris Botti's breathtaking music is at
spac.org
, where we've assembled a collection of his best videos as well as other materials that highlight his achievements." "We are tremendously excited to welcome him back to our festival stage for the first time since 2008 to help us give fans a 35
th
Anniversary celebration they'll never forget," said White. A master artist and performer, Chris Botti is the largest selling American jazz instrumental artist, with nearly three million albums sold worldwide. His success has crossed over to audiences usually reserved for pop music and his ongoing association with PBS has led to four #1 Jazz Albums, as well as multiple Gold, Platinum & Grammy Awards. Botti will be performing on June 30, the first day of the two-day event; it will be his fourth appearance at SPAC's jazz festival. Also announced was a featured program of SPAC's "Live from the Algonquin at SPAC" cabaret series which debuted in 2011.
"FEVER" THE PEGGY LEE SONGBOOK,
starring Wesla Whitfield and Mike Greensill will be presented on August 24 and 26 at the Spa Little Theatre. The cabaret series extends from August 19 - 28. "A celebration of the life and music of iconic American singer Peggy Lee by renowned cabaret singer Wesla Whitfield will electrify audiences at our 2012 cabaret series. Peggy Lee rose to fame in the Golden age of big bands as a vocalist with Benny Goodman,  ultimately becoming one of the most successful recording artists of that era as well as a respected  songwriter and an Oscar nominated actress," said White. "Legendary jazz singer Wesla Whitfield, lauded as 'One of the finest masters of popular singing' by the
Los Angeles Times
, will bring this remarkable star and her music to life on our Little Theatre stage." Regarded as one of the most influential jazz vocalists of all time, Peggy Lee was an American singer and songwriter who had a career that spanned six decades. After enduring a difficult childhood in her native North Dakota, Lee began singing with a group in Chicago where she was discovered by
Benny Goodman
in 1941 and hired as his principal singer. She began singing on her own in 1943 and also began collaborating on songs, often with her husband, Dave Barbour, including "Fever," "Manana," and several songs for
Walt Disney
's
Lady and the Tramp
(1955). In a voice that was sultry, subtle and suggestive, Peggy Lee delivered her songs in a way that made her one of the most enduringly popular singers of her time. Lee also starred and sang in the hit
films
The Jazz Singer,
Disney's
Lady and the Tramp
, and
Pete Kelly's Blues
, for which she received an
Academy Award
nomination. SPAC also underscored that this week's announcement by Live Nation that Grammy-winning performer and composer
YANNI
will perform on June 12 added another component to the "Building of a Season" series. Yanni, known for his compositions and performances of instrumental music, is one of the music industry's most beloved artists, selling out major concert venues around the world including Eastern Europe, the Middle East and Asia.  With his world-class orchestra, he performed music from his latest album "Truth of Touch," now platinum in the Middle East, as well as classic concert favorites. Fans will see Yanni and his world-class musicians as they take the stage to perform his greatest instrumental hits made famous in his shows from The Acropolis in Greece, The Taj Mahal in India, The Forbidden City in China and The Royal Albert Hall in England. Tickets for Yanni's SPAC performance go on sale Saturday, December 17 at 10 AM. "Throughout the 'Building a Season' series, I encourage everyone to visit
spac.org
to explore these remarkable artists and programs in more depth by browsing our extensive collection of videos, photos, articles and reviews. I hope that this initiative can be a process of discovery, education and enrichment for people as well as an encouragement to begin planning their attendance at SPAC in 2012 right now," said White. "It is going to be a truly incredible season."
###
Contact
: Shane Williams-Ness, 518.584.9330 x 116 M:518.378.0295
shane@spac.org
  Lisa Hill, 518.584.9330 x 119 M:518.496.2882
lhill@spac.org
;
http://www.spac.org/