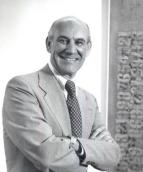 Late SPAC Founder and Board Chair was Dedicated to the Performing Arts
Post-Show Fireworks Highlight Final Program of NYCB's 2012 Saratoga Season
Saratoga Springs, N.Y.
- Saratoga Performing Arts Center will celebrate the contributions of Lewis A. Swyer (1918-1988) with the dedication of a star in SPAC's Walk of Fame on Saturday, July 21 at 7:15 p.m.  Swyer, a Capital Region developer and businessman, was a passionate supporter of the arts who was a driving force behind the creation of SPAC and later, the National Museum of Dance. Swyer was SPAC's longest serving Board Chairman, holding the position from 1974 - 1988. "It is an honor and a privilege to remember Lew with a star in our Walk of Fame.  It is a symbol of our appreciation for all he did in his lifetime for SPAC and the performing arts," said Marcia White, SPAC's President and Executive Director. "He was an influential developer in the Capital Region, but the arts were his passion. He had a broad vision that included a conviction that this region could be one of the most culturally vibrant destinations in the world. Few people did more to help make that dream a reality than Lew Swyer." Born in Hoosick Falls, and raised in Coxsackie, Lew Swyer had an early love of the performing arts. He attended John Hopkins University where he majored in English and philosophy, followed by a brief career as a professional actor. Yet Swyer gave up the stage to pursue a career as a builder and commercial developer, eventually rising to become one of the region's most influential business leaders. Swyer balanced his success in the private sector with strong philanthropic efforts in education, the arts and social justice. Lewis Swyer was one of the first business leaders to get behind the movement to create a performing arts center in the Saratoga Spa State Park. His company, the L.A. Swyer Construction Company, built the SPAC Amphitheatre. His contributions to SPAC continued when he was elected to SPAC's Board of Directors in 1968 and elected as Chairman of the Board in 1974 - an unprecedented tenure which would last until he passed away in 1988.    Swyer also co-founded the National Museum of Dance in 1986 to establish SPAC and the Capital Region as a center for world class dance.  In 1992, the Lewis A. Swyer School for the Performing Arts was opened in conjunction with the National Museum of Dance.  It was envisioned by Swyer to be a place to honor professionals who cultivated a rich diversity of professional dance - choreographers, teachers, dancers and impresarios alike.   In addition to his momentous contributions to SPAC, Swyer sat on the boards of several colleges including the State University of New York at Albany, Skidmore College and the Niagara-Mohawk Power Corporation.  He was a founding member of the New York State Council of the Arts and his construction company built many of the area's marquee buildings including The Ten Eyck Project, Twin Towers and 80 State Street in downtown Albany, the Unitarian Church, designed by Edward Durell Stone, Temple Beth Emeth, Albany Academy for Girls and several high rise apartment buildings, in addition to the Saratoga Performing Arts Center. His numerous accolades included
Forbes
magazine's National Business in the Arts Award, the NYS Governor's Arts Award, the Distinguished Citizen Award from the University at Albany and the Citizen Laureate Award from the University at Albany Foundation. Attending the dedication ceremony on Saturday, July 21 will be SPAC's President Marcia White, NYCB Ballet Master in Chief Peter Martins, members of SPAC's Board of Directors and members of the Swyer Family.
Saturday, July 21:
7:15 p.m. - Star Dedication Ceremony for Lew Swyer (
Amphitheatre Apron
) 8 p.m. - New York City Ballet program
Jeu de Carte
DGV: Danse A Grande Vitesse Symphony in C
10:20 p.m. - FIREWORKS
###
Contact
: Shane Williams-Ness, 518.584.9330 x 116 M:518.378.0295
shane@spac.org
  Lisa Hill, 518.584.9330 x 119 M:518.496.2882
lhill@spac.org
;
http://www.spac.org/