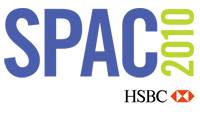 Let the Public Decide! Online Voting Begins Friday, April 16 at www.spac.org
Saratoga Springs, N.Y.
- The last day to submit entries for SPAC's "Battle of the Bands" presented by The Recording Company and WEQX, will be Wednesday, April 14. Entry forms, which must include a link to a YouTube video audition, are available at
www.spac.org
. There is no entry fee to participate.  Since starting its online audition process, SPAC has received applications from over eighty bands. Beginning Friday, April 16 thru Sunday, April 18, the public will have the opportunity to view audition videos and vote for the band of their choice from SPAC's website. The band with the most public votes will be automatically admitted to the competition. A SPAC selection committee will choose the other nine finalists.   The ten finalists will compete on Friday, May 21 at "Battle of the Bands" at the Spa Little Theatre at 6:00 p.m. The bands will perform for a live audience and a panel of judges that will include Debbie Gabrione, lead singer of
Ten Year Vamp
; Matt Baumgartner, restauranteur and popular blogger, and Jason Irwin, host of award-winning local music show, EQX-Posure! The winning band will receive a prize package that includes a professionally recorded 5-song EP at The Recording Company and airplay on northeast radio station WEQX. More information is available at SPAC's website. Members of the media are encouraged to contact SPAC with any requests or questions.
###
Important Dates:
WEDNESDAY, APRIL 14 Deadline for applications FRIDAY, APRIL 16 Full list of applicants posted at
www.spac.org
FRIDAY, APRIL 16 THRU SUNDAY, APRIL 18 Public online voting period at www.spac.org WEDNESDAY, APRIL 21 Ten finalists announced; tickets go on sale FRIDAY, MAY 21, 6:00 P.M., Spa Little Theatre SPAC's First-Ever Battle of the Bands!