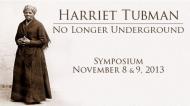 Auburn, N.Y.
- The planning committee of the Harriet Tubman: No Longer Underground Centennial Symposium is happy to announce the impressive list of Tubman scholars who will be presenting at the two-day event on Friday, November 8 and Saturday, November 9 at Cayuga Community College, 197 Franklin St., Auburn, N.Y. Historian and writer Kate Clifford Larson, Ph.D., author of the 2004 biography of Harriet Tubman,
Bound for the Promised Land: Harriet Tubman, Portrait of an American Hero, 
will deliver the keynote Friday night at a special dinner for symposium participants and others interested in attending. Larson has worked as a consultant and interpretive specialist for numerous public history initiatives related to Harriet Tubman and the Underground Railroad in Maryland, Delaware, and New York. She is currently consulting historian for Maryland's Harriet Tubman State Park and Harriet Tubman Underground Railroad Byway, and Delaware's newly approved Harriet Tubman Underground Railroad Byway. She has also served as a consulting historian for the National Park Service's Harriet Tubman Special Resources Study, resulting in the introduction of the Harriet Tubman National Historical Parks Act, now awaiting approval in Congress. Accomplished actor Millicent Sparks will portray her signature character, Tubman, on Friday and a distinguished list of scholars will address the following periods in Tubman's life: abolitionist movement, the Civil War and Emancipation Proclamation, and Tubman's post-war work as a humanitarian and advocate for Civil and Women's Rights. On Saturday, the symposium will focus on Tubman in Auburn: past, present, and future. In the afternoon, participants will be invited to independently tour local historic sites or attend the "Teachers in Conversation: Curriculum Development Workshop," presented by Seward House Museum Education Director John Kingsley and Docent Patricia Nunno. The symposium is sponsored by Cayuga Community College, the Harriet Tubman Boosters Club, the Seward House Museum, and the Women's Rights National Historical Park. The event is made possible through a grant provided by the Cayuga Community Fund, and financial support from sponsors Hilton Garden Inn of Auburn, Nucor Steel of Auburn, Welch Allyn, and the College History Club. To add your name to our mailing list to receive updates about the symposium, including the list of speakers and agenda, please email Planning Committee Co-Chair Rosemarie Romano at
rosemarie.romano@gmail.com
. For the complete list of speakers and more details, visit
http://r20.rs6.net/tn.jsp?e=0018IS8v1ANWZiiOsu5sAi0aSCRyufZLJodOi1qFEhZo-5elKs2V7Sx3Y8wYEGDUwGDqfxlu9-k81O8V67UlE2kKfTU5VGa0geiMBySFn6jGGz_eidFKJV4zFlpwFM321UK
.
###