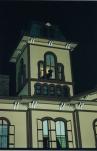 Mumford, N.Y
-
Even with a century and more exposure to movies, television and other new terrors, the horror tales and frightening characters of 19th-century writings still have a hold on us today. Some of these characters come to life in Genesee Country Village & Museum's Spirits of the Past Theatrical Tour, Oct. 18-19 & 24-26, chilling visitors as they once did in the 19th century. Using its historic village as its canvas, the 75-minute guided tour revisits scenes from the pens of Edgar Allan Poe, Bram Stoker, Mary Shelley, the creators of Sweeney Todd and others. Adaptations are acted out in short vignettes in and around the dimly lit streets of the historic village. Tours depart every 10 minutes from 7-9 p.m. Thursday and 6-9:30 p.m. Fridays and Saturdays. Cost is $16/$14 members and reservations are required. It is not recommended for children under 12.
###
Photo
- Hamilton House (1870) from Campbell, NY
.  Photo by Ruby Foote
. 
Genesee Country Village & Museum is the largest living history museum in New York State and the largest collection of historic buildings in the Northeast. The museum, with its  John L. Wehle Gallery and Genesee Country Nature Center, is open May 11-Oct. 14, and located in Mumford, N.Y., 20 miles southwest of Rochester and 45 miles east of Buffalo. For more information, visit
www.gcv.org
or call (585) 538-6822.
Hours:
Sept. 4-Oct. 14
10 a.m.-4 p.m. Wednesdays-Fridays,  weekends and holidays
Closed Mondays & Tuesdays, except for Oct. 14
Contact:
Judy Markham
(585) 538-6822
jmarkham@gcv.org