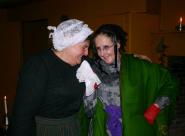 Mumford, N.Y -
It's dark, long past sunset. There's something disquieting in the air. The old buildings, even the trees, their dry leaves rustling, seem to be whispering dark, sinister secrets. The 19th-century stories of unnatural happenings, dark intimations and terrors that will haunt your nights, are right at home in this historic village at Genesee Country Village & Museum. The region is already awash in tales of wandering spirits, murder and the unexplained. The iconic tales of 19th-century horror come alive in the Spirits of the Past Theatrical Tours Fridays and Saturdays, Oct. 19-20 and 27-28. Using the 19th-century historic village as its canvas, the 75-minute tour will revisit scenes from the pens of Edgar Allan Poe, the creators of Sweeney Todd and others.  Visitors will witness theatrical scenes from many of the chilling stories and novels that Western New Yorkers were reading some 150 years ago.  Adaptations from seven of these stories will be performed in short vignettes acted out inside the historic homes. Tour guides lead guests through the darker recesses of the village to re-discover these literary tales. From cellars to cupolas, no quarter that offers a forbidding venue for these true tales and folklore is ignored. Tours depart every 10 minutes each night between 6 and 9:30 p.m.  Cost is $16/$14 members.
Reservations are required. Call (585) 538-6822.
Because of the length of the tour, the program is not recommended for children under 12. With the uneven walk areas and sometimes steep stairways, walking shoes are a must.  Please be prepared to be walking and standing for the entire tour. Refreshments will be available throughout the evening in the museum's Freight House Pub. For more information call (585) 538-6822 or visit
http://www.gcv.org/
.
Genesee Country Village & Museum is the largest living history museum in New York State and the largest collection of historic buildings in the Northeast. The museum with its  John L. Wehle Art Gallery, is open May 12-Oct. 14, and located in Mumford, N.Y., 20 miles southwest of Rochester and 45 miles east of Buffalo. For more information, visit
www.gcv.org
or call (585) 538-6822.
Hours:
Sept. 5-Oct. 14
10 a.m.-4 p.m. Wednesdays-Fridays
10 a.m.-5 p.m. weekends and holidays (plus Oct 22-23 and 29-30)
Closed Mondays & Tuesdays, except for Oct. 8
CUTLINE
:  Actors Marie Schultz (left) and Lyn Somers share a chuckle over their "flesh-baked meat pies" in an adaptation of the Sweeney Todd legend this month at Genesee Country Village & Museum's
Spirits of the Past
.
(Note: "Lyn Somers" is correct.)
Contact
: Judy Markham  (585) 538-6822
jmarkham@gcv.org