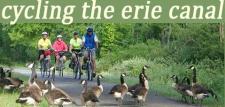 400-mile bicycle tour from Buffalo to Albany
July 8-15, 2012
Albany, N.Y.
- The 14th annual cross-state bicycle tour along the Erie Canal -
Cycling the Erie Canal
- is scheduled for July 8-15, 2012. 
Cycling the Erie Canal
is an eight-day, 400-mile recreational bicycle tour from Buffalo to Albany along the legendary Erie Canal.
Cycling the Erie Canal
riders will enjoy fine scenery and fascinating history.  The Erie Canal corridor is designated a National Heritage Corridor, one of only 49 across the nation.  The bicycle tour passes through historic canal villages and rural countryside.  Along the way, canal historians and local experts will introduce participants to the people, places and things that make the Erie Canal so unique and so important to the history of New York State and the country.  About three-quarters of the ride is off-road, on the traffic-free Canalway Trail; the rest is on rural roads with good shoulders.  Last year's
Cycling the Erie Canal
drew more than 500 riders from 35 states.  Over one-third of the riders were from New York State. "New Yorkers were as amazed as out-of-staters at the beauty of the Erie Canal corridor as well as its cultural and historic richness," says Robin Dropkin, Executive Director of Parks & Trails New York, and organizer of the annual cross-state bike ride.
Cycling the Erie Canal
is a great ride for cyclists of all abilities and ages. Last year, the oldest rider was in his 80's while the youngest participant was six-years-old. 
Cycling the Erie Canal
is an opportunity to enjoy this beautiful and historic region of New York State in a truly unique manner. Most days, the route follows the canal along level ground.  Several days in the Finger Lakes have a few rolling hills and there are two long gradual climbs in the Mohawk Valley, but they should not pose a serious barrier even for the novice cyclist.
The $625 fee,  for
Cycling the Erie Canal
includes camping accommodations every evening with showers and toilet facilities, several with pools or lakes for swimming; eight hearty breakfasts and six delicious dinners; two refreshment stops daily stocked with fruit, snacks and beverages; entertainment and historical presentations each evening; guided tours of the Canal, historic sites, museums, and other attractions; a
Cycling the Erie Canal
T-shirt and water bottle; sag wagon and mobile mechanical support; baggage transport; daily maps and cue sheets; and marked routes.  Additional services are available for a fee, including fresh daily towels, gourmet coffee each morning, tent and air mattress rental and setup, and a massage each evening. For riders with limited time, two weekend ride options are available, from Buffalo to Pittsford on July 7 to July 9 and Canajoharie to Albany on July 13 to July 15.  A shuttle will be available at the beginning of the ride to transport riders and their bicycles to Buffalo.  Non-cycling friends and family of riders with their own transportation are welcome.  Youths age 18 and under enjoy a special half-price rate. Parks & Trails New York, a statewide nonprofit parks and trails advocacy organization, works to create a network of parks, trails and open space across the state for all to use and enjoy.  Funds raised will help support Parks & Trails New York's trail programs, including its work on the Canalway Trail.  When complete, the 524-mile Canalway Trail will be the longest intra-state multi-use trail system in the nation. "We're expecting our 14th annual
Cycling the Erie Canal
tour to be just as much fun as last year's ride.  We have several hundred volunteers in place in communities along the route ready to welcome riders and show them what makes the Erie Canal and upstate New York so special," says Dropkin. The NYS Canal Corporation, the agency charged with operating, maintaining and promoting New York's Canal System and the Canalway Trail, is the Premier State Sponsor of the event for the 14th straight year.  First Niagara Financial Group is the official bank sponsor.  The Erie Canalway National Heritage Corridor is the event's Heritage Sponsor. Supporting sponsors include CSEA, Wegmans, Terry Women's Bicycling Company, and Brookfield Renewable Power.   Nine Tourism Promotion Agencies along the route are also sponsors:  Orleans County Tourism, Wayne County Tourism, Greater Rochester Visitors Association, Seneca County Tourism, Cayuga County Office of Tourism, Oneida County Convention & Visitors Bureau, Syracuse Convention and Visitors Bureau, Montgomery County Chamber of Commerce, and Albany Convention & Visitors Bureau.
Second bicycle tour offered through Hudson Valley
Parks & Trails New York organizes another multi-day bicycling tour through the picturesque Hudson Valley.
The 8th annual
Great Hudson Valley Pedal
, a six-day, 200-mile bicycle tour from Albany to New York City, is set for July 31- August 5, 2012.                                                For more information on
Cycling the Erie Canal
, e-mail
eriecanaltour@ptny.org
or visit
www.ptny.org/canaltour
.  For further information on the
Great Hudson Valley Pedal
, e-mail
hudsontour@ptny.org
or visit
www.ptny.org/hudsontour
.
  Call 518-434-1583 for information on either tour.
# # #
Contact:
Robin Dropkin (518) 434-1583
eriecanaltour@ptny.org
http://www.ptny.org/canaltour