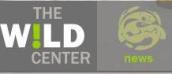 Tupper Lake, N.Y.
- A terrific free day for families, the debut of a very special skunk, the last transit of Venus for 100 years and much more await you in May and June at The Wild Center!
Sunday, May 13th
Free Community Day
Don't miss out on this great family day!  Join a naturalist for a guided walk, get up close with one of our animals during an Animal Encounter, watch the otters cavort or play in the Naturalists Cabinet or The Pines.  All events are open to the public, free of charge.
June 2nd & 3rd
The Black & White Ball
Wear your black and white, Trillium will wear hers, whatever your stripe, you'll want to celebrate as Trillium, Trilly to her friends, steps into Wild Center society. The Wild Center's newest resident will be introduced to the public at 1pm on both days.  Trillium is an Adirondack woodland flower that stinks a bit and the name of an Adirondack skunk who is a breath of fresh air. Meet her, at the Black & White Ball.
Monday, June 4th
APO: Last Transit of Venus for more than 100 years
Come find out what will happen and why it is so significant. Join the APO to celebrate this exciting event.  Dr. Aileen O'Donoghue, associate professor of Physics, Saint Lawrence University and current APO Trustee. 
Click here for more information.
.
Tuesday, June 5th
APO: NASA 'live feed' of Venus in Transit
Join us for streaming a "live feed" from NASA of the Transit of Venus in the Flammer Theater. In addition, the Adirondack Public Observatory will be hosting activities and observing the Transit of Venus starting at 5:00 P.M. at Little Wolf Beach, Tupper Lake. In case of inclement weather the event will move to The Wild Center. 
Click here for more information
.
Member Events
Sunday, June 10th
Boreal Birding at Spring Bog Pond eXpedition
The Wild Center is pleased to offer this expert-led eXpedition at The Nature Conservancy's Spring Pond Bog. The second largest open expanse of peatland in New York, Spring Pond Bog Preserve provides a unique habitat for plants and animals found nowhere else in the state. The wetland and surrounding woodlands provide feeding and nesting sites for a number of boreal birds, including various flycatchers, at least 15 different species of warbler, Lincoln's Sparrow, and more. Follow the boardwalk along the bog and head down a short trail through hardwood forests with great bog views.
Click here for more information
.
Saturday, June 16th
Spring Boreal Birding at Shingle Shanty Preserve and Research Station eXpedition
This is a rare opportunity to access a truly unique part of the Adirondacks for birding and natural history exploration. Shingle Shanty Preserve and Research Station is located in one of the most remote part of the Adirondacks on a large tract of land that has been privately held since the 1850s. 
Click here for more information
. For the latest information about what's happening at The Wild Center,
Like us on Facebook
 or
follow us on Twitter
. Keep on top of what's happening with
our live cams
 and subscribe to
our YouTube channel
for some great videos.  
###