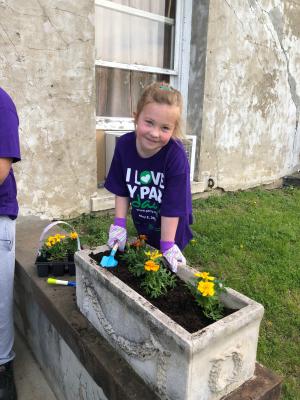 Staatsburg, N.Y.  (4/18/22) —  Staatsburgh State Historic Site will host volunteers for another annual spring day of volunteerism at as part of more than 100 cleanup, improvement and beautification events happening statewide on Saturday, May 7.
I Love My Park Day is an exciting statewide event to improve and enhance New York's state parks and historic sites and bring visibility to the entire state park system and its needs. Volunteers from across the state will participate in cleanup, improvement, and beautification events at New York State parks and historic sites. Volunteers will celebrate New York's state park system by cleaning up park lands and beaches, planting trees and gardens, restoring trails and wildlife habitat, removing invasive species, and working on site improvement projects. 
At Staatsburgh, volunteers will be helping site staff prepare the grounds (now Mills Memorial State Park) for the season by raking and removing vegetation and debris from areas of the grounds overlooking the Hudson River. Those interested in volunteering in the project at Staatsburgh can register to volunteer by visiting www.ptny.org/ilovemypark. Heavy rain cancels the event and there is no alternate rain date.
Volunteers for Staatsburgh's I Love My Park Day will receive an event T-shirt (while supplies last), and lunch is provided by The Friends of Mills at Staatsburgh and Village Pizza of Rhinebeck.  Snacks and bottled water are provided by Tops Friendly Market of Rhinebeck. Dutchess Signs and Williams Lumber are providing event supplies.  Thanks to all our local business supporters!
Staatsburgh was the Gilded Age country estate of prominent social hostess Ruth Livingston Mills and her husband, financer Ogden Mills. The 79-room mansion on the Hudson River showcases the opulent lifestyle enjoyed by the wealthy elite of the early 20th century, and the lives and roles of the servants who made the estate function. The house was remodeled by the famous architect Stanford White in 1895. Staatsburgh is within Mills Memorial State Park, located on Old Post Road in Staatsburg, off Route 9 between Rhinebeck and Hyde Park.
Staatsburgh offers house tours, special programs and events throughout the year, by online reservation: www.bookeo.com/StaatsburghSHS
The historic site is one of 6 sites and 15 parks administered by the Taconic Region of New York State Office of Parks, Recreation and Historic Preservation. For more information, call 845-889-8851, or visit Staatsburgh's websites. The site address is 75 Mills Mansion Drive, #1 Road, Staatsburg, NY 12580
I Love My Park Day is coordinated at the statewide level by Parks & Trails New York (PTNY) in partnership with the New York State Office of Parks, Recreation and Historic Preservation (OPRHP) and the New York Department of Environmental Conservation. Friends groups and park staff will oversee cleanup, improvement and beautification projects and work with volunteers. 
About PTNY: Parks & Trails New York is the leading statewide organization working to preserve and enhance a network of parks, trails and greenways for all New Yorkers for generations to come. Since 1985, our influential reports and advocacy efforts have been critical to keeping parks and historic sites open and protecting New York's natural, recreational, cultural and historical resources. For more information, visit www.ptny.org.
###
Contact:
Dmitri Benzinger | Dmitri.Benzinger@parks.ny.gov | (845) 889-8851 
About OPRHP: The New York State Office of Parks, Recreation and Historic Preservation oversees 180 state parks and 35 historic sites, which are visited by 60 million people annually. A recent study by Parks & Trails New York found that New York State Parks generates $1.9 billion in economic activity annually and supports 20,000 jobs. For more information on any of these recreation areas, call 518-474-0456 or visit parks.ny.gov, connect on Facebook, or follow on Twitter.
###