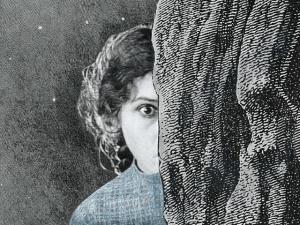 Mixed-media sculptures and collages, and moving image works will be on view through June 6
Rochester, N.Y. (February 19, 2021) — The George Eastman Museum will open a new exhibition, Stacey Steers: Night Reels, in the museum's Project Gallery and Multipurpose Hall on Saturday, February 20. The exhibition will be on view through June 6.
Night Reels is a body of multidisciplinary work by the artist Stacey Steers (American, b. 1954) that blends 2D paper collage, animation, mixed-media sculpture, and moving image works. Steers pays homage to the history of moving images while inventing entirely original cinematic works that transport familiar characters and imagery into surreal nocturnal dreamscapes.
The moving image works on display begin with Phantom Canyon (2006), a "true story" that follows human figures selected from Eadweard Muybridge's pre-cinema motion studies. The second, Night Hunter (2011), features a mesmerizing performance from silent cinema star Lillian Gish, who has been lifted from her original films and recast in a disquieting domestic phantasy. In the third, Edge of Alchemy (2017), Hollywood icons Janet Gaynor and Mary Pickford are brought together in a retelling of the Frankenstein story—with a surprising twist.
Each frame in Steers's films is first composed as intricate paper collages assembled from fragments of 19th-century printed engravings and book illustrations. Steers then photographs each collage onto 35mm motion picture film. Working with extraordinary precision, she develops approximately eight distinct collages for every second of screen time. This meticulous process, combined with an exquisite mastery of the craft of animation results in each film taking a minimum of five years to produce.
"While Steers's films can be fully enjoyed when seen projected on a large screen, they take on a new life when viewed within her collaboratively fabricated sculptural works," said Gordon Nelson, exhibition curator and curator of moving image department digital collection, George Eastman Museum. "Each dynamically captivating 3D object has been designed as an ideal small-scale theater in which to experience these masterful films in a gallery setting."
About the George Eastman Museum
Founded in 1947, the George Eastman Museum is the world's oldest photography museum and one of the largest film archives in the United States, located on the historic Rochester estate of entrepreneur and philanthropist George Eastman, the pioneer of popular photography. Its holdings comprise more than 400,000 photographs, 28,000 motion picture films and three million archival objects related to cinema, the world's preeminent collection of photographic and cinematographic technology, one of the leading libraries of books related to photography and cinema, and extensive holdings of documents and other objects related to George Eastman. As a research and teaching institution, the Eastman Museum has an active book publishing program, and its L. Jeffrey Selznick School of Film Preservation's graduate program (in collaboration with the University of Rochester) makes critical contributions to film preservation. For more information, visit eastman.org.
 
# # #
Image: ONEEYE - by Stacey Steers
ATTN. MEDIA: Press images and captions for Night Reels are available at the following URL: https://eastmanmuseum.box.com/v/staceysteersGEM.
Media Contact: Eliza Kozlowski
(585) 327-4860
ekozlowski@eastman.org