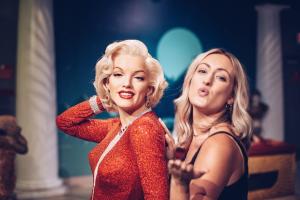 Families can Honor Local Healthcare Workers by Sharing Their Visit on Social Media 
New York City (August 21, 2020) – Madame Tussauds New York officially reopens to guests on Wednesday, August 26. The attraction will be open from 11 a.m. – 5:00 p.m., Wednesday through Sunday. Star-studded safety measures in line with government advice and the requirements of local health authorities have been introduced including timed and dated tickets, social distancing guidelines, contactless payment, enhanced cleaning and employee health screenings. Additionally, interactive experiences, photo props and the 4D theater are temporarily unavailable. Face coverings must be worn by all guests and capacity will be restricted to no more than 25 percent of permitted occupancy. Madame Tussauds New York has taken NYC & Company's Stay Well New York Pledge which is backed by public health protocols, to help businesses reopen responsibly.
"The health of our guests and employees is of utmost importance. We are taking proactive steps to provide visitors with a safe, comfortable environment while offering an enjoyable escape as guests take in the sights and sounds at Madame Tussauds, the World's Best Wax Museum," said General Manager of Madame Tussauds New York, Mindy Clements. "After all, the stars have missed seeing their fans!"
As part of the reopening, Madame Tussauds New York will honor the tireless work of local medical professionals by providing complimentary tickets to healthcare heroes. For every guest who shares a photo of their visit and tags the attraction in a social media post during their visit, Madame Tussauds New York will donate one ticket to a local healthcare worker from a health care partner.
To celebrate its reopening the attraction is offering a special-priced reopening ticket for a limited time only! Entry to Madame Tussauds New York is now available for $19.99. Guests are encouraged to visit https://www.madametussauds.com/new-york/en/ to purchase tickets and review safety protocols ahead of their visit.  
###
About Madame Tussauds New York
Voted as one of New York's most unique attractions, Madame Tussauds invites you to pose "In a moment in time" with our famous fun figures of internationally renowned musicians, A-list stars, sports legends, world leaders and more. With more than 85,000 square feet of interactive entertainment and several new spaces, including the new Madame Tussauds New York Presents Broadway, and NYE in NYC, the world-famous attraction is bigger and better than ever!
About Merlin Entertainments plc
Merlin Entertainments plc is a global leader in location-based, family entertainment. As Europe's number one and the world's second-largest visitor attraction operator, Merlin now operates more than 130 attractions, 19 hotels and 6 holiday villages in 25 countries across four continents. Merlin's purpose is to deliver memorable experiences to its 67 million guests around the world, through its iconic brands and multiple attraction formats, and the commitment and passion of its 28,000 employees (peak season). See www.merlinentertainments.biz for more information and follow on Twitter @MerlinEntsNews
Media Contact: 
Brittany Williams, Senior PR Manager
Brittany.Williams@MerlinEntertainments.biz
863-594-0128
Photos & B-Roll:  https://bit.ly/MadameTussaudsNewYork