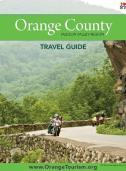 Orange County Tourism revs up getaways with its new 2012 guide.
Hudson Valley, N.Y.
- From the front cover to the back page, Orange County's new Travel Guide is action packed with hundreds of things to do all year long. The 54-page, full color volume is bigger and brighter with more to see than ever before. Colorful photos of some of New York State's most famous attractions can be seen next to vivid descriptions of all there is to experience in the county. New sections on Motorcycling, Wineries and Breweries, and Historic Houses have been added to the already comprehensive listings. Orange County has some of the most visited destinations in New York State:  West Point, Woodbury Common Premium Outlets, and Orange County Choppers. International travelers have made these the hot spots to visit in the Hudson Valley along with Storm King Art Center, Brotherhood Winery, cruises on the Hudson River, and Sugar Loaf Craft Village. "We're so very proud of how much there is to see and do in Orange County," said Orange County Executive Edward A. Diana, "and whether visitors are coming from near or far our convenient location and access to transportation makes Orange County easy to get to from just about anywhere. Best of all, we've got destinations that appeal to all ages and interests all year round. I invite visitors and residents alike to get their Travel Guide and pay us a visit," encouraged Diana.             Getaways are a snap to plan with this extensive guide. From galleries to golf, amusements to antiques, Orange County is a four season destination worthy of a few days or a week's visit. And that's just to see the high points! Guides are free and can be obtained by calling 800-762-8687, or emailing
tourism@orangecountygov.com
. Complete listings and events can also be found on the web at www.OrangeTourism.org. Orange County Tourism is the headquarters for tourism in the county and is affiliated with I LOVE NEW YORK.
###
Contact
: Susan Hawvermale 845-615-3863
shawvermale@orangecountygov.com