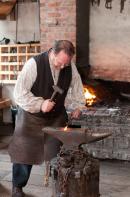 Cooperstown, N.Y. -
This summer, you can experience history first-hand at The Farmers' Museum in Cooperstown with
Step Back in Time Weekends
. On eight weekends from June through September, the past comes to life as distinct themes are given special focus, ranging fromfire-fighting to fancy weaving, with exciting activities and displays to interest the entire family.
Fireman's Muster, June 16-17
See Central New York's finest area volunteer fire companies and their trucks, pumpers and hose reels at The Farmers' Museum.  Cheer on our firefighters as they march down Main Street in Cooperstown in the National Baseball Hall of Fame Classic parade. While at the museum, take part in an old-fashioned bucket brigade, meet the folksfrom Safe Kids Otsego County and learn about fire safety. Be sure to read all about the Great Fire of Cooperstown and see how burn salve was made at Dr. Thrall's Pharmacy. Don't miss the display of the museum's collection of fire-fighting equipment.
Fantastic Natural Fibers, June 30-July 1
Demonstrations, hands-on activities and exhibits show how natural fiber is harvested and transformed into yarns and threads and then how yarns and threads are turned into wearable, utilitarian, and decorative items. Ongoing activities include spinning, dying, weaving, felting, knitting, crocheting, fiber processing. Fiber animals will be on exhibit.
Treating Our Ills and Curing Our Chills: Medicine Now and Then, July 14-15
Try your hand at grinding herbs and tour the medicinal herb garden. Take a nature walk to identify wild medicinal plants as you explore the historic use of herbs as medicines. Step back to a time when people purchased patent medicines and ingredients from pharmacists to make home remedies, using recipes from newspapers, family members and cookbooks. Discover how the medicinal use ofherbs continues today.
Hops and Beer, August 4-5
Discover a plant with roots in local history. Walk a field of hops, a vigorous, climbing perennial used as a flavoring and stability agent in beer. Discover the importance of hops in New York State and the culture surrounding hop-growing in the 1800s. Try hands-on activities in the Pope Hop House. Get up-to-date with growing hopstoday from members of the Northeast Hop Alliance. Be sure to enjoy tastingsfrom several local breweries.
Blacksmiths' Weekend, August 11-12
Join blacksmiths from across New York State as they demonstrate traditional tool and hardware making, working with hot iron just as in the 1840s. Blacksmiths made and repaired the things that farmers used every day,like tools and chain, and also kitchen utensils, hooks, and candleholders for the home. In the Field Blacksmith Shop and on the museum green, blacksmiths will make a full set of barn door hinges, hasp, and handles. Horses take part as a skilled blacksmith and farrier shoes horses. This weekend is sure to captivate families, scout groups, amateur blacksmiths, and just about everyone else!
Letterpress Printing, August 18-19
Discover the history of printing, as well as the continued popularity of the craft into the 21st century. See the entire process of making a book, from the manufacture of paper and type, to the setting of type and the process of printing on 19th-century presses, to assembling and sewing the books. You can set type, sort "pied type" by font, print souvenir cards on a period job press, and make paper to takehome. Throughout the historic village, period newspapers and broadsides demonstrate the importance of the village printer.
Animal Power, August 25-26
This weekend is all about the animals that have shaped our farming history. Oxen and horses show their power throughout the day with demonstrations of cultivating and driving. You can take a turn and test your strength by trying out historic farming tools. Watch the blacksmith working on equipment for draft animals. Throughout the historic village, learn the importance of animal power to life in the 1840s.
Carousel Organ Rally, September 29-30
Can't get enough of the happiest music on Earth? Then come to The Farmers' Museum to hear and see the great gathering of the calliopes, band organs, and hand-cranked grinder organs. The Carousel Organ Association of America comes to Cooperstown and brings its finest, so come and hear them play! The Mighty, Majestic, Military Band Organ of the Empire State gives regular concerts in the Carousel Pavilion. This promises to be a memorable, fun-filled day forall! All
Step Back in Time Weekends
are held at the museum from 10:00 a.m. - 5:00 p.m. Entry is included in museum admission: Adults and juniors (13-64): $12.00; seniors (65+): $10.50; youth (7-12): $6.00; children (6 and under):Free. NYSHA members are always admitted free, as are active-duty and retired career military.  Through Labor Day 2012, active-duty military and up to five family members are free, through the Blue Star Museum program.
###
About The Farmers' Museum
As one of the oldest rural life museums in the country, The Farmers' Museum in Cooperstown, New York, provides visitors with a unique opportunity to experience 19th-century rural and village life first-hand through authenticdemonstrations and interpretative exhibits. The museum, founded in 1943, comprises a Colonial Revival stone barn listed on the National Register forHistoric Places, a recreated historic village circa 1845, the Empire State Carousel, and a working farmstead. Through its 19th-century village and farm, the museum preserves important examples of upstate New York architecture, early agricultural tools and equipment, and heritage livestock. The Farmers' Museum's outstanding collection of more than 23,000 items encompasses significant historic objects ranging from butter molds to carriages, and hand planes toplows. The museum also presents a broad range of interactive educational programs for school groups, families, and adults that explore and preserve the rich agricultural history of the region.
Caption:
 Blacksmith's Weekend is just one of the exciting
Step Back in Time Weekend
events happening this summer at The Farmers' Museum in Cooperstown.
Contact
: Todd Kenyon, Public Relations New York State Historical Association Fenimore Art Museum/The Farmers' Museum Phone: (607) 547-1472 / E-mail:
t.kenyon@nysha.org