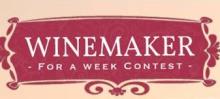 Enter to win the unique opportunity to stay nestled among the vines in the wine region of New York's Finger Lakes and experience the unique opportunity to become a Winemaker for a Week
Finger Lakes Region, N.Y.
- There is a saying out there, 'work hard, play harder.' Inside, everyone has a passion. Passions to learn, explore, or experience life to its fullest and in the Finger Lakes region of New York State, all of these passions can turn into an incredibly memorable experience. The Finger Lakes Tourism Alliance, Cayuga Lake Wine Trail, Greek Peak Mountain Resort, and Bet the Farm Winery and Gourmet Market have teamed up to create an experience of a lifetime; the opportunity to step into the winemakers boots and become a winemaker for a week. This unique experience is part learning opportunity, part luxurious vacation, and part glimpse into the life of a winemaker. Through '
Winemaker for a Week
' contestants will enter to win a week long stay for two at
Greek Peak Mountain Resort
in Cortland, NY. Greek Peak's facility, nestled in the beautiful countryside of Cortland County, will bring you into a luxurious lodge setting with an in house spa, indoor waterpark, and brand new Adventure Center. Greek Peak is a short drive away from the
Cayuga Lake Wine Trail
, one of the Finger Lakes premier locations to experience award winning wines. The winner and a guest of their choice will have the opportunity to work with premier winemakers at Long Point Winery, King Ferry Winery, and Six Mile Creek Vineyard. Our winning winemaker will see and have hands on experience with the full vine to bottle process by picking the grapes, viewing and assisting in crush, lending a hand in the cellar and more! This experience will be the perfect opportunity to have any questions answered pertaining to grapes, the winemaking process, bottling, and everything in between! Phew! The juice has made it from the vineyard into the bottle and is now fermented into wine. Now what do we do with it? That's where winery owner and winemaker herself, Nancy Tisch will take the lead showing contestants the sales side of the wine industry. It is here that our winemakers in training will be able to pour and sample tastings at
Bet the Farm Winery and Gourmet Market
. Figuring out the sales technique and getting the product into the hands of the customer is a critical element in the development of the Finger Lakes wine industry being successful. With winery owners, winemakers, retailers, and customers all working together, the Finger Lakes wine industry is being taken to new heights. Come and experience it first hand! Become Winemaker for a Week! To enter to win, please visit
http://www.winemakerforaweek.com/
.
###
Contact
: Jessica Robideau 315-536-7488
jessicar@fingerlakes.org