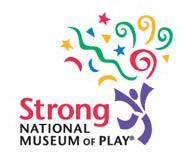 Once upon a time . . . Even the littlest authors can fill in the blanks and enjoy the thrill of writing their very own short stories when they visit Strong National Museum of Play's new interactive online game, Story Magic. (To get started, go to
http://www.museumofplay.org/
and click on the Story Magic button.) With a wave of a magic wand you'll be whisked off to one of five literary kingdoms, just like those in the museum's popular
Reading Adventureland
exhibit. Choose from among the lands of Nonsense, Fairytales, Adventure, Fantasy, or Mystery. Create your own scenery, import a few magical objects (a treasure chest brimming with golden coins or a harp, perhaps); populate the scene with your favorite characters (among them, a magician, jester, or friendly giant); sprinkle in some animals (a silly dragon, or a magical unicorn?); and set the mood with a customized musical background. And the best part-you get to write an original story using your imagination. Stories can be printed out to hang on your refrigerator or send to friends and relatives; or they can be saved as an image to your computer and viewed again and again.
~ The End ~
Contact
: Susan Trien, 585-410-6359;
strien@museumofplay.org
===================================================================== Strong National Museum of Play®, located in downtown Rochester, New York, is the only museum in the world devoted solely to the study of play as it illuminates American culture.
Museum Hours:
Monday-Thursday, 10:00 a.m. to 5:00 p.m.; Friday and Saturday, 10:00 a.m. to 8:00 p.m.; Sunday, 12:00 noon to 5:00 p.m.
Admission Fees:
General Admission (does not include admission to
Dancing Wings Butterfly Garden
®): Adults $10.00; Seniors $9.00; Children (2-15) $8.00; Children younger than two free; Strong members free.
Admission to Dancing Wings Butterfly Garden®:
General Admission fee plus $1.50 for members, $3.00 for nonmembers; Children under 2 free. Entry is by timed ticket only. Please call 585-263-2700 to reserve and purchase tickets.
Parking:
Free parking is available at the museum for all guests on a first-come, first-served basis. Please note that, on high visitation days, the museum lot may reach capacity early in the day. If space is not available on site at the time of your visit, you will be directed to additional parking at neighboring municipal garages (fees may apply).