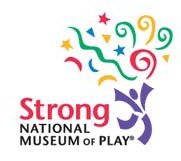 Rochester, N.Y.
- From a display of delightful whimsical art by local artists, to colorful new wildlife introduced into the
Dancing Wings Butterfly Garden
®, to a chock-a-block full February school-break week in conjunction with the new
TINKERTOY
exhibit, the National Museum of Play at The Strong has lots of terrific upcoming offerings. Take a look!  Take a walk on the whimsical side at the new
Whimsical Art
display beginning Friday, February 19 through Sunday, May 22. Click here for more:
Whimsical Art
The
Dancing Wings Butterfly
Garden
team has raised the bar by introducing a variety of birds and animals into the butterfly garden to create a lively ecosystem that they have dubbed "butterfly garden 2.0." Click here for more:
Dancing Wings Buttefly Garden Raises the Bar
Enjoy opportunities to build-in a BIG way!-in conjunction with the
TINKERTOY®: Build Your Imagination
TM
exhibit during
Build, Build, Build! School-Break Week
February 19 through 27. Click here for more:
School-Break Week February 19-27
Reminder:
TINKERTOY®:  Build Your Imagination
TM
exhibit opens February 5
TINKERTOY Press Kit
Calendar Change:
The Making American Music adult evening concert "American Folk Roots" featuring the Burning Boots (originally scheduled for January 12), has been rescheduled for Wednesday, March 30 at 7:30 p.m.  Discover the roots of American folk music through traditional mountain songs and stirring bluegrass and country tunes. Tickets: museum member $15, nonmember $18.
Contact
: Susan Trien Senior Director Public Relations and Advertising
The Strong
One Manhattan Square Rochester, NY 14607 U.S.A. Tel 585-410-6359 Fax 585-263-2493
strien@thestrong.org
http://www.thestrong.org/