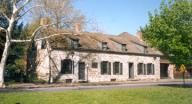 Kingston, N.Y.
- Collecting maple sap and boiling it down to syrup has had a long tradition in North America.  Native Americans in the northeast first collected the sap and boiled it to syrup to sweeten their food.  When European colonists arrived, they learned how to process the sap from the Native Americans.  It was used as a sweetener, in place of expensive cane sugar, in a variety of foods including oatmeal, waffles, sausage and baked goods. Join the staff and volunteers of Senate House State Historic Site on Saturday April 6, 2013 from 11am-3pm to celebrate the maple season. Activities include boiling maple sap to syrup, making jack wax candy, baking molasses cornbread and waffles over an open fire, hewing a log into a trough, and making wooden buckets and spiles which were used to collect the sap.  Enjoy traditional 18
th
century music performed by Katie Boardman and watch the First Ulster County Militia re-enact a raid on the sugar bush.  The event is free and open to the public.  All are invited to attend.  Guided tours of the Senate House will be available at the usual rate of $4.00 for adults, $3.00 for seniors, ages 12 and under are free.  The site is located on Fair St. in uptown Kingston.  Senate House State Historic Site is part of a system of parks, recreation areas and historic sites operated by the New York State Office of Parks, Recreation and Historic Preservation, and is one of 28 facilities administered by the Palisades Interstate Park Commission in New York and New Jersey.  For further information about this and other upcoming events please call the site at (845) 338-2786 or visit the State Parks website at
http://www.nysparks.com/
. 
###
Contact:
 Deana Preston, Senate House State Historic Site (845) 338-2786